The past year was a big one for telecom M&A. Telecompetitor covered more than two dozen mergers and acquisitions in 2016 and they involved numerous facets of the industry. Here's a summary of key trends and how they are reshaping the communications service provider playing field.
Tier 1 Telecom M&A
The biggest changes occurred in the cable industry, where the desire to obtain increased scale spurred a mega-merger that brought three of the nation's largest cable providers into a single entity. The operations of Charter, Time Warner Cable and Bright House are now combined into a single entity under the Charter name, and they are the number three video provider in the market (behind AT&T/DirecTV and Comcast).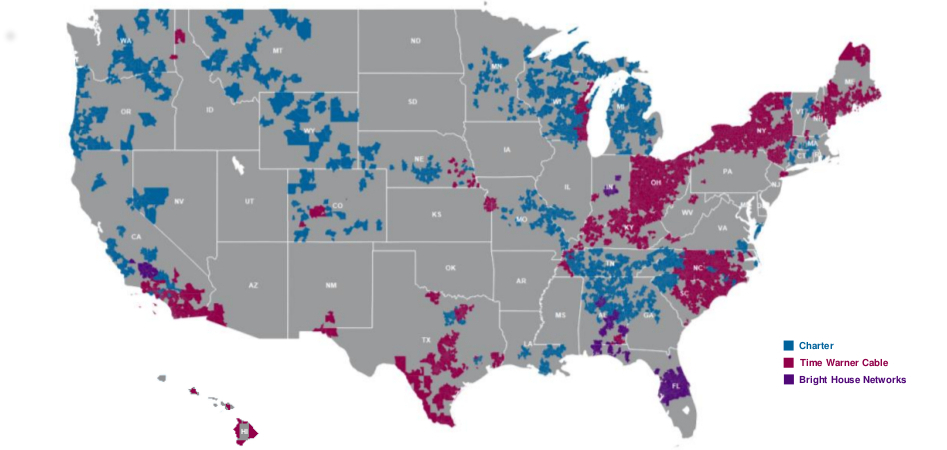 France-based Altice also has been acquiring cable properties in the U.S. In 2016, it acquired Cablevision after previously acquiring Suddenlink.
The largest telcos also made some big M&A moves in 2016, primarily in pursuit of strategic objectives.
After purchasing DirecTV in 2015, AT&T is now pursuing the acquisition of Time Warner with the goal of acquiring content to support its video and other media offerings.
Verizon made plans to acquire XO Communications  in order to obtain the competitive carrier's spectrum licenses, which Verizon plans to use to support 5G wireless service. Verizon also said it would acquire Yahoo, a move aimed at enhancing the carrier's ability to earn revenues through digital advertising opportunities — although some news reports have speculated that the deal is in peril. Verizon also offloaded operations that aren't core to its business when its deal to sell its California, Texas and Florida residential businesses to Frontier closed mid-year.
Meanwhile, CenturyLink's 2016 acquisition strategy was focused on gaining scale in the enterprise market. The company's plan to acquire Level 3 Communications, announced in October, will make the combined company number two in the enterprise market, behind AT&T.
Although not known primarily as a communications provider, Google entered that market when it began deploying its gigabit fiber-to-the-home service in select markets several years ago. Google's acquisition of wireless Internet service provider WebPass, completed in October, indicated the Internet giant is still interested in the service provider market, but that it is likely to shift toward a broadband wireless strategy.
Tier 2 & 3 Telecom M&A
Seeking greater scale, Tier 2 and 3 service providers also got in on the consolidation trend. The biggest of these deals, announced just a few weeks ago, aims to put competitive carrier Earthlink in the hands of Windstream which, like CenturyLink, wants to gain greater scale in the enterprise market.
Another major Tier 2 deal announced in late 2016 would put FairPoint in the hands of Consolidated Communications. Consolidated previously this year was both a buyer (in a deal with Champaign Telephone Company) and a seller (in a deal with two Tier 3 telcos in Iowa).
On the cable side, an important deal involved TPG Capital acquiring two companies whose strategy is to overbuild incumbent cable providers—RCN and Grande Communications.
Other deals involving Tier 2 & 3 service providers announced in 2016 include:
Competitive Carrier Consolidation
Another important trend this year was major consolidation among challenger companies that arose in the 1990s to offer telecom services in competition with the major players. The aforementioned Verizon/XO, CenturyLink/Level 3 and Windstream/Earthlink deals are poised to take three major competitive players out of the market.
Venture capital firm Oak Hill Capital Partners also is playing a role in competitive carrier consolidation, having acquired Firstlight Fiber and Sovernet.
Other deals involve one competitive carrier acquiring another, including:
GTT acquiring Hibernia (a deal that has the distinction of combining two internationally-focused competitive carriers)
Municipal Networks and Wireless
Even municipal networks have experienced the consolidation trend, with Sunset Digital buying BVU Optinet. There also was a difficult-to-classify deal that put the iTV3 open access network in the hands of Countrywide Broadband.
One market that didn't see much consolidation this year, though, (perhaps because the industry segment has largely completed the consolidation process) was wireless. The only wireless deal we covered this year was a small one involving Shentel purchasing nTelos.
Whither 2017?
Considering how late in the year some major deals came, and considering that regulators in the incoming Republican administration may be more likely to approve mergers and acquisitions, the consolidation trend shows no signs of stopping in 2017.