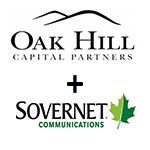 Private equity firm Oak Hill Partners' plan to acquire Sovernet Communications, announced yesterday, is the latest example of fiber network consolidation. The Oak Hill Sovernet deal calls for Sovernet to be rolled into FirstLight Fiber, another fiber network operator that Oak Hill announced plans to acquire earlier this year. Sovernet operates in parts of Vermont, New York and New Hampshire, a geographic area that has been a focus for Oak Hill.
FirstLight, formerly known as Tech Valley Communications, operates in upstate New York and New England, and has itself been a consolidator. Oak Hill also has a deal pending to acquire Oxford Networks, another New England-based fiber network operator.
Driving Oak Hill Sovernet Plans
By combining all of its fiber network resources, Oak Hill has the potential to be a strong force in New York and New England at a time when fiber networks are becoming increasingly critical. As mobile wireless demand soars, wireless carriers are continuously upgrading their backhaul network infrastructure to support higher speeds – and as 5G takes hold, dense fiber footprints are likely to be particularly valuable.
One has only to look at the furor behind the current debate about whether the FCC should regulate business data services to realize that there is a lot at stake in this market.
Oak Hill is no stranger to the telecom sector. Among a range of companies in its portfolio, the firm also has invested in Cincinnati Bell, WOW, Wave, Metronet, and Atlantic Broadband.
The terms of the Oak Hill Sovernet deal were not disclosed.