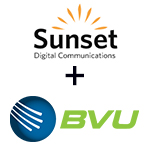 In what could be an emerging trend of municipal broadband M&A activity, one of the nation's earliest municipal broadband networks is set to be sold. Duffield, Virginia-based Sunset Digital Communications announced last week that it will purchase the OptiNet Division of Bristol Virginia Utilities Authority, which operates a broadband network in Bristol, Virginia.
In an email to Telecompetitor, Sunset Digital COO Ryan Elswick said the purchase price is $50 million. BVU did not immediately respond to Telecompetitor's request for additional information.
The sale requires certain regulatory approvals and is expected to take several months to complete.
Not a Typical Municipal Broadband Network Sale
Until now, municipal broadband M&A activity may have tended to involve networks that ran into funding or management problems. But that doesn't seem to be the case here.
Both the Sunset Digital and BVU network deployments, as well as construction of the Mid-Atlantic Broadband Network,  were made possible, in part,  by the Virginia Tobacco Region Revitalization Commission, which was chartered by the Virginia General Assembly to promote economic growth in tobacco-dependent communities. That initiative helped Sunset, BVU and MBC build broadband networks in the early 2000s, and those networks have helped the region economically.
According to a report from a local news media outlet, however, BVU's chairman has stated that OptiNet has peaked in its ability to compete as a broadband service provider and the company is looking to shed debt in order to gain greater flexibility with electric rates going forward.
Sunset's roots are in the software business; accordingly, the company doesn't face the same issues and according to Elswick has been looking for possible acquisition opportunities for a year and a half. "When we had a regular meeting with our neighbor and contemporary BVUA OptiNet, we realized there was an opportunity to grow in our own backyard," Elswick commented.
Elswick also noted that the Sunset and OptiNet networks already interconnect. "We have a direct network interconnect that allows us to serve customers in each other's territories, and we entered the fiber optic networking business around the same time (early 2000s)," said Elswick. "We have grown up together, worked together and been friendly competitors. It just seemed to be the perfect fit."
According to the press release announcing the deal, Sunset will honor government grants used for OptiNet network construction, will lease the current BVU office and plans to retain OptiNet employees. Sunset also pledged "no significant change in rates or service quality" to Sunset or OptiNet customers.
A Sign of Things to Come?
When municipal utilities like BVU undertake broadband network build-outs, they typically do so only when such services are not available from the incumbent telco or cableco and when customers are clamoring for broadband service. That means utilities like BVU may not view broadband as a core business, and recognizing that, it wouldn't be surprising to see more municipal broadband M&A deals like the one between Sunset and BVU in the future.