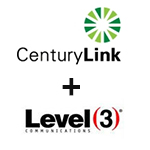 If CenturyLink's plan to merge with Level 3 Communications is approved, the combined carrier will get 76% of its revenue from the enterprise and wholesale market, said a Level 3 executive today.
After the CenturyLink, Level 3 merger, the combined company would be the most heavily business-focused of the nation's five largest service providers by a long shot, according to data presented by Level 3 Chief Financial Officer Sunit Patel at the Bank of America Merrill Lynch Leveraged Finance Conference, which was also webcast.
AT&T would be in the number two spot, with 17% of its revenue coming from enterprise and wholesale, followed by Verizon and Charter who are tied at 13% and Comcast, which gets just 6% of its revenues from the enterprise and wholesale market.
The combined Level 3/ CenturyLink enterprise and wholesale markets "really becomes the prime business of the company moving forward," said Patel.
At $32.5 billion for 2015, AT&T would still have the largest overall enterprise and wholesale revenues after a CenturyLink/ Level 3 merger. But the merged company would be in the number two spot with combined CenturyLink enterprise and wholesale revenues of $18.8 billion, followed by Verizon, Charter and Comcast.
As the second largest provider to enterprises in the U.S., the merged company will be able to "do more for customers, [have] better branding and [have] better presence in more places," Patel said.
CenturyLink Enterprise Focus
Focusing on the enterprise and wholesale market would appear to be a smart choice for the company resulting from a CenturyLink, Level 3 merger. The latter was one of the most successful of the competitive carriers to emerge in the 1990s but that group has been shrinking as companies have gone out of business or been acquired. (Another remaining company in that group – XO Communications – is getting set to enter the Verizon fold.)
Meanwhile, CenturyLink – like other companies that began life as a monopoly phone company – has had to diversify to compensate for declining revenues in its traditional business.  Companies in that group generally pursue one of three strategies or some combination of the three – wireless, residential broadband and the enterprise.
Unlike AT&T and Verizon, CenturyLink has no pure-play wireless business. And of the two remaining business options, the enterprise market would appear to have greater potential, particularly considering that the numbers discussed at the beginning of this post suggest that the company's chief competitors are primarily focusing elsewhere.
According to CenturyLink CFO Stewart Ewing, the company won't shift its focus away from its residential business completely, however. During a question-and-answer session after today's presentation, Ewing said that within three years, CenturyLink plans to make 40 Mbps broadband available to 90% or more of the homes in its top 25 markets. In addition, 70% of homes in those markets are targeted to have 100 Mbps broadband available to them.