Just days after FCC Chairman Tom Wheeler reportedly told executives of Time Warner Cable and Charter Communications that the commission might approve certain cable industry mergers, the two companies today announced plans to merge in a deal that also would bring Bright House Networks into the fold. According to a press release issued today, the deal values TWC at $78.7 billion and values Bright House at $10.4 billion.
Charter previously attempted to acquire Time Warner Cable back in 2013, before Comcast made a stronger offer to purchase TWC. That deal recently was derailed by regulators, prompting Wheeler's outreach to the cable execs and reopening the possibility of Charter acquiring TWC.
Charter previously announced plans to purchase Bright House last year, but that deal has now been amended to reflect Charter's changed situation.
The merged company combining the assets of Charter, TWC and Bright House would have 23.9 million customer relationships, including 17.3 million video customers, 19.4 million Internet customers and 9.4 million voice customers, according to a presentation shared with investors today. The new company to be known as New Charter would be the third largest video provider, assuming AT&T's plan to acquire DirecTV is approved, making that company number one, followed by Comcast. In the wireline Internet market, New Charter would be number two behind Comcast, followed by AT&T and Verizon.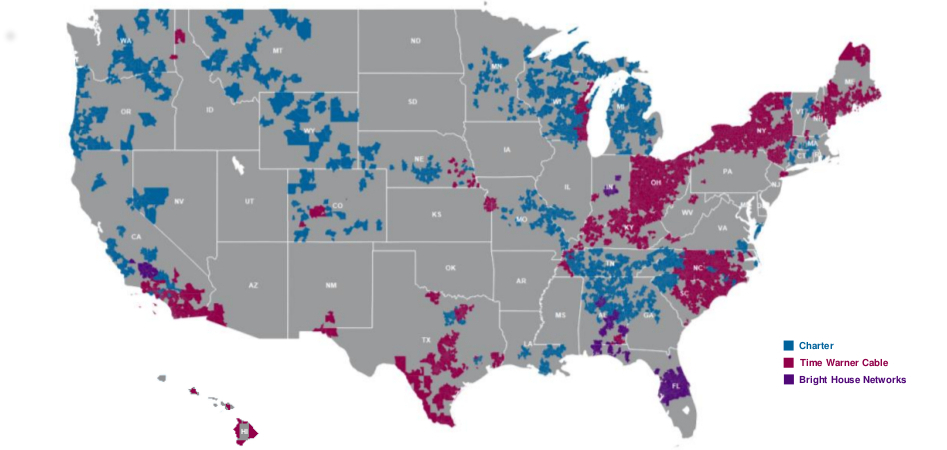 Charter, TWC, Bright House Deal
On a conference call with investors this morning to discuss the planned acquisitions, Charter President and CEO Thomas M. Rutledge who is slated to remain CEO of the combined companies, pledged to invest in broadband if the merger is approved. "The new company will drive significant investment in America's broadband infrastructure, delivering faster broadband speeds, better video products and more competition and innovation into the marketplace," said Rutledge.
Specifically, Rutledge said the combined company would invest in "much faster Internet, more high-definition content and other advances, including alternate forms of video delivery running on more advanced devices in customer homes."
Rutledge and TWC Chairman and CEO Robert D. Marcus said they expect regulators to approve this deal because it is a smaller deal than the Comcast/ TWC deal would have been and because it does not entail the same vertical integration concerns. A key concern in the Comcast/TWC deal was that Comcast also has ownership in content companies.
Liberty Broadband owns a portion of Charter and plans to make a further investment if acquisition plans move ahead as outlined today.
Financial details of Charter's plan to acquire TWC and Bright House can be found in today's announcement.