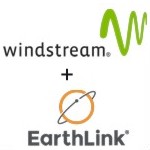 An announced Windstream EarthLink deal has Little Rock, Ark. based Windstream acquiring Atlanta, Georgia based Earthlink for a total transaction value of $1.1 billion (including debt). The move follows an uptick in merger activity in the telecom sector, where carriers are looking to build scale and continue diversification beyond legacy services.
EarthLink's legacy is that of a 'dotcom' company that helped bring the Internet to the mainstream in the 1990's and early 2000's. They built an extensive dial-up Internet network, but successfully transitioned the company to an SMB and enterprise focused networking company in the last decade.
"The combination will result in an extensive national footprint spanning approximately 145,000 fiber route miles and provide advanced network connectivity, managed services, voice, Internet and other value-added services," states Windstream in a press release announcing the deal. "Customers will also benefit from combining Windstream's scale in the Enterprise segment and EarthLink's successful launch of SD-WAN."
Windstream is also transitioning their business from that of a rural focused ILEC, to that of a business and broadband services based network operator. They have been busily expanding their SMB and enterprise focus, by deploying more fiber assets.
Windstream also divested their physical network assets into a REIT structure, a strategy they claimed would allow them to better re-focus. They also divested their data center assets to raise cash for broadband expansion.
Windstream Strategy
By combining the two companies, EarthLink and Windstream are gambling they can better compete together in the very competitive space of mid-level business services. Cable MSOs are quite active there and looking to grow market share. Incumbent telcos are strong there as well.
"Both EarthLink and Windstream are used to competing against the cable MSOs, as well as the LECs," commented Windstream CEO Tony Thomas during a conference call detailing the transaction. "Frankly this transaction better positions both of our companies, we're a stronger, more scaled competitor, bringing the best of both of our product sets, a larger network."
Windstream joins a growing number of communications companies who are on a buying spree, looking for growth engines as traditional access and network services mature as a business. In some ways, this Windstream EarthLink deal is a 'mini' version of the recent CenturyLink Level 3 deal, where both companies are doubling down on enterprise and business segment opportunities for growth.
Windstream's larger brethren, AT&T and Verizon, are certainly maximizing their opportunities in that segment as well but are also looking outside of traditional telecom services. AT&T's pursuit of Time Warner is an attempt to build a 'mobile first' entertainment empire, controlling both content and distribution. Verizon is pursuing 'digital dollars' in advertising and digital content through its Aol acquisition and its current pursuit of Yahoo.
Windstream EarthLink Deal
Transaction details include EarthLink shareholders receiving 0.818 shares of Windstream common stock for each EarthLink share owned. This represents a 13% premium to the average exchange ratio for EarthLink over the month ended Nov. 3, 2016. Windstream expects they will issue 93 million shares of stock valued at approximately $673 million to close the transaction. Windstream shareholders will own approximately 51% of the combined company, with EarthLink shareholders owning the remaining.
Existing Windstream CEO Tony Thomas will serve as president and CEO of the combined company. "Key EarthLink management members are expected to join the combined company to bring best-in-class talent and ensure a smooth integration," says Windstream in the press release.
The EarthLink brand will eventually be retired with the combined company known as Windstream headquartered in Little Rock, Arkansas. Closing is expected by mid-2017, with customary regulatory approvals from federal and state regulators. Both Windstream and EarthLink shareholders need to approve the deal.