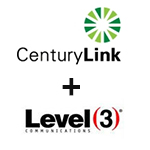 A CenturyLink Level 3 merger has been confirmed this morning, with CenturyLink agreeing to acquire Level 3 for $34 billion, including assumption of Level 3 debt. The combined company will be a formidable competitor in the enterprise business and wholesale markets, with facilities in over 350 metro areas in 60 countries, across the globe.
The deal represents a significant transformation for CenturyLink, who has its roots as a rural ILEC. A Level 3 acquisition is but one of a series, which has also included Qwest, Embarq, Savvis, and a few others, changing its local telco focus to that of a global player.
"The digital economy relies on broadband connectivity, and together with Level 3 we will have one of the most robust fiber network and high-speed data services companies in the world," said Glen Post, CenturyLink president and CEO in a press release  announcing the transaction. "This transaction furthers our commitment to providing our customers with the network to improve their lives and strengthen their businesses. It is this focus on providing fiber connectivity that will continue to distinguish CenturyLink from our competitors."
CenturyLink can now carve out a competitive position akin to that of global players including AT&T, BT, and Orange, among others.
CenturyLink Level 3 Merger
The $34 billion deal gives Level 3 stock a value of $66.50, a 42% premium over Level 3's recent closing price of $46.92. CenturyLink is offering a combination of cash and stock for the transaction and CenturyLink shareholders will own 51% of the new combined company, with Level 3 shareholders owning 49%. Glen Post will continue as president and CEO of the combined company and current Level 3 CFO Sunit Patel will serve in the same capacity of the combined company. Headquarters will remain in Monroe, Louisiana.
According to CenturyLink, the deal adds tremendous networking assets to the company, including:
200,000 route miles of fiber, which includes 64,000 route miles in 350 metropolitan areas and 33,000 subsea route miles connecting multiple continents
CenturyLink's on-net buildings are expected to increase by nearly 75 percent to approximately 75,000, including 10,000 buildings in EMEA and Latin America
The deal is expected to close by the end of the 3Q 2017 and is subject to state and federal regulatory review. Both CenturyLink and Level 3 shareholders also must approve the deal.