Wireless customer satisfaction increased 1.4% in the last year, according to a new wireless customer satisfaction study from the American Customer Satisfaction Index (ACSI). The wireless telephone services category scored 75 out of 100 in ACSI's Wireless Service and Cellular Telephone Report 2018-2019.
The report looked at mobile network operators (MNOs), full-service mobile virtual network operators (MVNOs), and value MVNOs. The report also looked at manufacturers and smartphone brands and introduced metrics for network quality and customer satisfaction by spending level.
At a collective 73, the NMOs are the lowest scoring category. T-Mobile is the leader in this group at 76. Verizon Wireless and U.S. Cellular both scored 74, while AT&T logged in at 73 and Sprint at 65.
The MVNO category collectively scored 77. Cricket Wireless, which is part of AT&T's prepaid portfolio – scored 79, with Metro by T-Mobile and Sprint subsidiary Virgin Mobile tying for second at 76. Sprint's Boost Mobile brought up the rear at 74.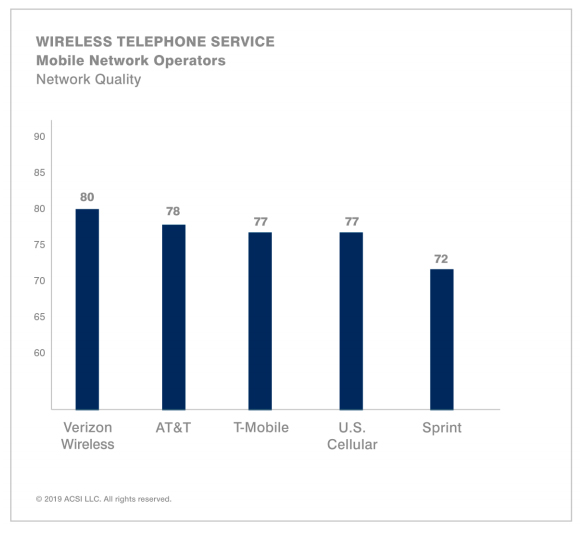 Value MNVOs collectively scored the highest of the three categories at 81, with Consumer Cellular the highest in the group and overall in the study at 85. Straight Talk Wireless was next at 80, followed by TracFone Wireless at 77.
The wireless category as a whole is in a bit of a holding pattern, according to ACSI. Smartphone sales are plateauing as subscribers await upgrades, ACSI notes. Lifecycles are longer and some are waiting for 5G and other innovations.
But it may be the calm before a positive storm. "To cope with the rapid growth of wireless data traffic, carriers are investing in modernizing infrastructure, including 5G networks," David VanAmburg, Managing Director at the ACSI, said in a press release. "Samsung's newest Galaxy S10 smartphone is a major step toward enhanced 5G connectivity. This may help build a foundation for future 5G devices, as it will be the first time a phone can access 5G without an attachment in the United States."
Last August, J.D. Power found that how customers get their wireless service made a difference in the perceived level of satisfaction. The firm found that satisfaction was lower at non-carrier stores than at carrier stores.