Verizon 5G markets now include Denver and Providence, bringing the total number of markets in which the carrier offers mobile 5G service to four. Verizon also said it would add the LG V50 ThinQ 5G smartphone to its 5G smartphone lineup, bringing the total number of 5G smartphones the carrier offers to four as well.
Verizon 5G Markets
Verizon said previously that Denver and Providence would be among 20 markets where the company would have mobile 5G service this year. The two new markets join Chicago and Minneapolis, which were announced earlier this year.
As with previous Verizon 5G launches, the service will be available in limited areas of the two new markets. The company has been using millimeter wave spectrum for its initial launches, enabling the company to support speeds that rival what wireline service providers can offer using fiber or DOCSIS technologies, but over relatively short distances. According to a Verizon press release, customers in the two new markets "should expect typical download speeds of 450 Mbps, with peak speeds above 1.5 Gbps."
Verizon 5G Smartphones
The LG V50 ThinQ 5G smartphone is the same one that Sprint is using initially for its 5G service. Although Apple and Samsung have dominated the smartphone market in recent years, the LG device has some uncommon capabilities that could appeal to some users, including hands-free control and a large OLED screen that doubles as a speaker.
Verizon initially launched mobile 5G service using the moto z3 smartphone, which requires the 5G moto add-on module to support 5G connectivity. The carrier subsequently added the Samsung Galaxy S10 5G smartphone and earlier this month added the moto z4 smartphone, which also requires the add-on module to support 5G.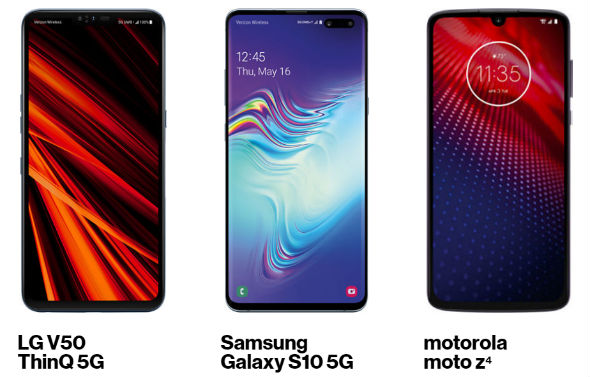 Using the moto z3 or z4 with a moto mod is considerably less expensive than using a dedicated smartphone from Verizon or any of the other three major U.S. carriers. The z3 and z4 currently sell for $10 a month for 24 months. Even after spending $50 for the moto mod, either device is considerably less costly than the Samsung S10, which Verizon sells for $1299 or $54.16 monthly for 24 months, or the LG ThinQ, which Verizon sells for $999.99 or $41.66 monthly for 24 months.
Sprint's pricing on the LG device is a bit higher than Verizon's current price, and  T-Mobile charges somewhat more for the Samsung S10 than Verizon does. AT&T, like Verizon, charges $999.99 for the Samsung device but currently is offering the device only to business customers.
Verizon is the only carrier as of now to offer more than one 5G smartphone option, although both Sprint and AT&T offer 5G hubs that work with any smartphone that has built-in Wi-Fi.
All the 5G smartphones fall back on LTE when 5G is not available.