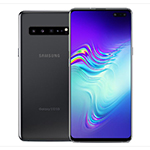 Verizon today announced 20 more markets that will get mobile 5G service in 2019 and said it will begin taking orders today for a 5G version of the Samsung Galaxy S10 smartphone, which will be in stores May 16. The carrier currently offers mobile 5G service, which it calls "5G Ultra Wideband," in Chicago and Minneapolis using a Motorola phone with an add-on module.
The next 20 Verizon mobile 5G markets are Atlanta, Boston, Charlotte, Cincinnati, Cleveland, Columbus, Dallas, Des Moines, Denver, Detroit, Houston, Indianapolis, Kansas City, Little Rock, Memphis, Phoenix, Providence, San Diego, Salt Lake City and Washington D.C.
The first mobile 5G smartphone carries a steep price — $1299 for the 256 GB version and $1399 for the 512 GB version — although Verizon is offering some discount promotions. There is a price to consumers for being first with 5G, and it's not cheap.
Samsung 5G Smartphone
The 5G Samsung smartphone will be available exclusively to Verizon for a "limited time," Verizon said. As of now, no other carrier offers a 5G smartphone. Although AT&T has launched mobile 5G in several markets, customers must use a 5G mobile hotspot to connect to an earlier-generation smartphone via Wi-Fi.
Verizon touts several capabilities of the 5G Samsung Galaxy S10 in today's announcement, noting that the phone has "a stunning 5.7-inch cinematic Dynamic AMOLED display, so you can immerse yourself in a whole new way." As one reporter noted, this screen is larger than the one on the non-5G version of the S10. In addition, the camera on the 5G version has a time-of-flight depth camera not found on the non-5G version and has six total camera lenses, rather than the five found on the Galaxy S10 Plus.
Verizon also announced several promotions to support the Samsung 5G phone. New or existing customers can trade in certain smartphones and save up to $450. In addition, those who are not already using Verizon can get a $200 prepaid Mastercard if they purchase a Galaxy S10 5G on a device payment plan and sign up for Verizon Unlimited service.
Customers who preorder the Galaxy S10 5G can get what Verizon calls a "VIP Kit" and which includes earbuds and a wireless charging battery pack.
Verizon Mobile 5G Markets
Verizon didn't provide launch dates for the additional mobile 5G markets, other than saying they would receive service this year. The company expects to have a total of 30 mobile 5G markets this year.
The company notes that the mobile 5G service will be available in "parts of" the target markets, which suggests that the company plans to use its high-frequency millimeter wave spectrum to support the initial launches. That spectrum band supports the highest service speeds but over shorter distances in comparison with lower-frequency spectrum. When Verizon launched mobile 5G in Chicago and Minneapolis, it targeted high-traffic but geographically limited areas such as Chicago's Loop. On the plus side, the company touted "typical download speeds" of 450 Mbps, with peak speeds of nearly 1 Gbps.
Today's announcement also notes that Verizon may launch its 5G fixed service in some of the mobile 5G markets – which could explain why the 22 markets announced to date lie largely outside Verizon's landline local service territory. The fixed service, dubbed 5G Home, was initially launched in four markets in September as an alternative to landline broadband.