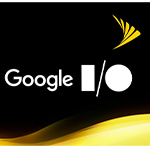 Sprint's 5G launch is targeted for four cities "in the coming weeks," the company said today. But Android developers already got a look at some of the applications the service is expected to support when Sprint demonstrated capabilities such as augmented reality, 4K video, gaming and hands-free control at the Google I/O event taking place in Mountain View, California this week. Supporting the demonstration was a Sprint 5G smartphone from LG, known as the LG V50 ThinQ 5G.
The hands-free control that Sprint demonstrated is designed to give users the ability to control the phone by waving. Another notable feature is a large OLED screen that doubles as a speaker, with the goal of providing an immersive entertainment experience.
Sprint 5G Smartphone
As of last year, Sprint expected LG to provide the first 5G smartphone offered in the U.S., but Verizon appears on track to beat out Sprint for that title, as Verizon already has begun taking orders for a 5G version of the Samsung Galaxy S10, which is scheduled for shipment May 16.
It appears that the LG smartphone will be the only device available for use with Sprint's 5G service at launch, although two other devices are expected to be available shortly thereafter. These include an HTC 5G hub, which is a hotspot that connects to other wireless devices via Wi-Fi, and Sprint's own 5G version of the Samsung Galaxy S10. According to earlier press releases, the LG hotspot is expected "this spring" and the Samsung smartphone is expected "this summer."
5G Mobile Service Plans
In February, Sprint said that its mobile 5G network would launch initially in parts of four markets – Atlanta, Chicago, Dallas and Kansas City – beginning this month. But the carrier seems to be hedging its bet on that a bit, as today's press release notes that those markets will be available for commercial use "in the coming weeks."
The carrier appears to be on target with the next five markets, however. Today's press release noted that those markets – Houston, Los Angeles, New York City, Phoenix and Washington D.C. – would launch by the end of June, which matches the target announced in February for those markets.
The 5G demo that Sprint is conducting at Google I/O is based on connectivity provided by Ericsson 5G massive MIMO radios. The demo network supports LTE as well as 5G NR service, with 60 MHz of 2.5 GHz spectrum supporting LTE and 40 MHz of 2.5 GHz spectrum supporting 5G NR.
Sprint's 2.5 GHz spectrum holdings also will support the company's initial mobile 5G launch.