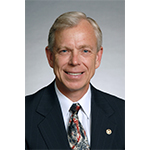 Under CEO Lowell McAdam, Verizon's key differentiation strategy has been network quality – a differentiator that has been increasingly difficult to maintain now that competitors have largely completed their LTE network buildouts. That's set to change soon, however, McAdam told investors today.
"When you're ready to move to the next generation, there's a stacking up," said McAdam. Following that, however, there is a period of huge differentiation because "some are willing to invest in the network" while others are not.
"We're the only one with spectrum and hundreds of cellsites," McAdam said – and that, he said, will enable the company to pull ahead of competitors as it rolls out 5G.
Industry efforts to prioritize 5G have accelerated development efforts, McAdam noted. He expects to see 5G chips on the market in the first quarter of 2018, and he noted that Verizon efforts to densify its network by deploying fiber and small cells will position the company well to support 5G.
Verizon Network Differentiator
McAdam's enthusiasm about 5G is based, in part, on preliminary results from trials of 5G technology in a fixed configuration that suggest it won't be essential to have a clear line of sight between the cellsite and the customer location. He also noted that, although Verizon expected to be able to cover up to six floors in a building, results are showing coverage over 20 floors.
Under McAdam, Verizon has been quite wireless-centric and some of McAdam's comments today suggest that will be even more true moving forward. He hinted, for example, that Verizon may deploy fixed 5G in markets where the company may have considered deploying FiOS fiber-to-the-home technology but where the economics didn't support that investment.
"The cost of [bringing] fiber to the home held us back," McAdam said. With fixed 5G, however, he anticipates avoiding a truck roll. Instead, he expects to mail out the customer premises equipment with turn-up instructions.
Video won't be an important part of Verizon's strategy. Although having video in a bundle can help minimize churn, margins are narrow and, as McAdam put it, "the 300-channel bundle is under assault."
Instead, he said, if Verizon can get a customer's broadband business, the company won't care whether the company is buying linear or over-the-top video.
Like rival AT&T, however, Verizon sees opportunities to monetize its wireless network by selling ads that are highly targeted based on customer data only available to the customer's wireless network operator. AT&T executives have bragged that they will be able to charge much more for targeted ads than advertisers are currently paying, but McAdam was more cautious.
"Our heads are in the same place," McAdam said about Stephenson's ad targeting strategy, but Verizon is "not as bullish on CPM as Randall." (Advertising costs are measured in CPM, or cost per thousand.)
McAdam made his comments at the Goldman Sachs Communacopia conference, which was also webcast.