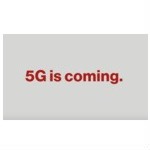 Verizon's announcement today that the company has completed a specification for ultra-high-bandwidth 5G wireless is the latest example of the company's increasingly wireless focus. The Verizon 5G spec was completed in advance of industry fifth-generation wireless standards efforts, raising the question of what is driving Verizon to push this technology so aggressively and so soon.
It's important to remember that in its initial incarnation, 5G will be a fixed wireless technology. And as Verizon's announcement today indicates, the company has been testing the technology for fixed deployments.  "Propagation and penetration testing across residential single and multi-dwelling units built in field locations has validated the feasibility of millimeter wave systems," the company said.
The millimeter wave band is the very high frequency spectrum band that is expected to be used for 5G deployments.
Verizon 5G Spec
Verizon's interest in 5G fixed wireless comes at a time when the company has nearly stopped deploying fiber-to-the-home infrastructure, which according to the company, would not be economical to deploy in most remaining markets. The company did make an exception recently when it announced plans to build out FTTH in Boston, but has been selling off its residential landline business in other areas.
Meanwhile, customers are demanding higher and higher broadband bandwidth and, in some cases, are switching to cable companies in areas where their local telco can't provide the speeds they need.
Some telcos – Frontier, CenturyLink and others — have been working to boost the broadband bandwidth they can deliver over existing copper network infrastructure using technology such as bonding and vectoring. But we haven't heard much along those lines from Verizon.
Instead, it would appear that Verizon sees 5G as the FTTH alternative it has been missing for boosting residential broadband bandwidth. In late May, Verizon CEO Lowell McAdam said that using 5G for fixed wireless may offer enough of a business case alone to justify the carrier's investment in 5G and that any profits from 5G mobile would be "gravy."
In today's announcement, Verizon notes that the Verizon 5G spec "provides guidelines to test and validate crucial 5G technical components" and that it "allows industry partners such as chipset vendors, network vendors and mobile operators to develop interoperable solutions and contribute to pre-standard testing and fabrication."
Companies participating in Verizon's 5G Technology Forum include Cisco, Ericsson, Intel, LG, Nokia, Samsung and Qualcomm. Additionally, Verizon has begun to work closely with Korea's KT Corporation, another carrier that is aggressively pursuing 5G in advance of industry-wide standards efforts.
The Bigger Picture
A few other points to note in combination with today's news about the Verizon 5G spec:
Just a few weeks ago, one Verizon executive said there was "not a ton of stuff that you need mobile in 5G," underscoring the idea that Verizon is most interested in the technology for fixed applications.
At that time, the same Verizon executive noted that the majority of the company's wireless investment is now going toward network densification – creating infrastructure that will support more cellsites spaced closer together, a critical requirement for 5G.
Verizon has been pushing U.S. policymakers to open up spectrum for 5G – and when the commission took steps in that direction recently, FCC Chairman Tom Wheeler highlighted Verizon's pioneering efforts in 5G
Verizon, unlike other major incumbent telcos, turned down Connect America Fund money to build out broadband to rural areas of its service territory where broadband isn't available today. But the company could still bid in the upcoming reverse auction to deliver service to those areas. Potentially Verizon could bid to use 5G fixed wireless – if it can get the technology ready soon enough to meet Connect America Fund build-out deadlines.