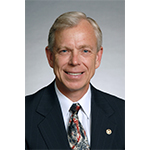 Fixed wireless broadband service based on 5G technology will not require line of sight between the transmitter and receiver, said Verizon CEO Lowell McAdam today. Advances in antenna and processing technology have essentially eliminated the need for fixed 5G line of sight, he explained in a question-and-answer session at a financial conference, where he also provided additional detail about Verizon network densification plans to support 5G and other offerings.
Fixed 5G Line of Sight
McAdam cited results from company tests that showed relatively little difference in fixed wireless broadband speeds with and without line of sight. In the test, fixed 5G wireless equipment supported speeds of 1.4 Gbps over distances of 2,000 feet without line of sight, in comparison with speeds of 1.8 Gbps over the same distances with line of sight.
In the non-line of sight testing, the underlying technology "took all the different reflections" of the signal and, with ample computing power on board, was able to process the signal so that performance differences were minimal, he said.
McAdam pointed to the test results as evidence of why foliage and other potential signal blockers should not be a concern for the company's ambitious fixed 5G wireless plans.
Verizon aims to deploy 5G 18 to 24 months ahead of its competition as it did with 4G, McAdam said.
"We had 18 to 24 months where we were the ones innovating on the platform and that will be the case with 5G," he said – although I suspect some of his competitors would quibble with that prediction.
Network Densification
McAdam again shared his enthusiasm for the potential benefits of network densification – a topic that has been top of mind for him recently. He noted once again that Verizon determined that network densification to support small cells was a more economical means of increasing 4G network capacity than buying more spectrum and added that the company's analysis also showed that for relatively little additional investment, it could make the network dense enough to support 5G service.
That realization drove the company to commit to deploying 12,500 miles of fiber from Corning annually for the next three years, and to make an additional commitment to alternative fiber provider Prysmian, McAdam noted.
Densification also is driving Verizon to rethink how its local wireline infrastructure is architected to support landline as well as wireless services, he said.
"A couple of years ago, we had a point-to-point mentality," he said. With that mentality, he said, "if a company wants to tie two offices together, you literally go to one of the fiber companies or to one of the telcos, and you say, give me a strand between here and there. If you're expecting a 4G densified network or a 5G high-capacity network, you really need to come in and build much more of a grid approach. It's much more like the cardiovascular system if you look at it than it is point-to-point."
McAdam reiterated Verizon's plan to use 1700-count fiber bundles to support its network densification strategy.
Asked about new applications that small cells could support, McAdam referenced discussions he has had with two big city mayors. Chicago's mayor, he said, is interested in the potential to use small cells to support education, as well as gunshot detection and cameras on every street corner. Boston's mayor, on the other hand, is interested in technology to control traffic.
McAdam made his comments at the J.P. Morgan Global Technology, Media and Telecom Conference, which was also webcast.