AT&T envisions the possibility that the number of ads during TV shows could decrease when the company's planned merger with Time Warner is completed, said AT&T Chief Financial Officer John Stephens at an investor conference today. AT&T addressable advertising capabilities will improve dramatically with Time Warner in the mix, Stephens says.
Noting that AT&T addressable advertising opportunities already exist as a video distributor but will only multiply after it combines with content provider Time Warner, Stephens said "You're combining with a company that has actual viewer data and customer insights – that hasn't been done before. When we bring the two together . . . we'll have a unique opportunity to do more targeted advertising, to get higher CPMs [cost per thousands], possibly to take commercials out of shows because you're getting more revenue per commercial [so] that you can increase the quality of the experience by reducing the number of commercials per show."
AT&T Addressable Advertising
AT&T already charges more for addressable advertising, available on its U-verse IPTV platform and expanding to other platforms, in comparison with what video distributors charge for non-addressable broadcast or cable advertising.
Addressable advertising uses "the viewership data that comes off our networks because we're the delivery system" to target ads to viewers, Stephens explained.
While non-addressable advertising might have a CPM in the range of $12 to $13, AT&T addressable advertising is getting a CPM close to $35 or $40, Stephens said. He noted that AT&T's advertising revenues grew in the double digits last year and are on a 12% growth curve this year.
"When you take that and put Time Warner's content with it, Turner's content with it, you get really excited," he said.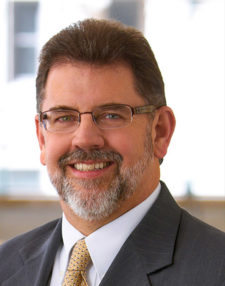 As a distributor, AT&T currently gets to sell four commercial spots per hour, according to Stephens. But content owners such as Time Warner, he said, get 24 slots per hour. The merged company potentially would have the opportunity to sell addressable ads for all 28 of those slots – or even reduce the number of slots as a means of improving the "quality and the stickiness of the content."
In addition, Stephens sees opportunities to use the combined insight of the merged company to help in marketing content and even in content development. He said AT&T envisions using the data to "educate creative talent on how to market products" and on "what people want, what they're really viewing."
New AT&T Advertising Leadership
AT&T expects to close on the Time Warner merger by the end of the year, Stephens said. Stephens also noted that Brian Lesser has been appointed CEO of the new advertising and analytics company that AT&T has created to pursue opportunities such as those he outlined today.
"Once we complete our acquisition of Time Warner Inc., we believe there is an opportunity to build an automated advertising platform that can do for premium video and TV advertising what the search and social media companies have done for digital advertising," AT&T CEO Randall Stephenson said in the Lesser appointment press release.
Stephens made his comments at the Oppenheimer Technology, Internet & Communications Conference in Boston, which was also webcast.