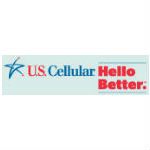 U.S. Cellular is the latest wireless carrier to announce a home phone replacement service. On Friday the carrier will begin offering U.S. Cellular Home Phone service in stores, to be followed by on-line availability beginning June 20.
As with similar offerings from AT&T, Verizon, Sprint and C Spire, the new U.S. Cellular offering will use a wireless communicator into which customers can plug traditional landline phones.
The going rate for these services almost universally seems to be $19.99 or $20 a month for unlimited nationwide service – and like other carriers, U.S. Cellular has priced its unlimited nationwide offering at that rate. Some carriers provide the home phone replacement service for just $10 a month as an add-on to a mobile wireless plan but U.S. Cellular's announcement does not reference such an option.
U.S. Cellular's service does have one important advantage over some competitive offerings, however. While some carriers charge upfront prices in the range of $50 for the wireless communicator, U.S. Cellular's communicator costs just one cent if purchased at a store with a new two-year agreement.
According to the U.S. Cellular announcement, the wireless communicator includes an antenna, wall charger and rechargeable battery pack. The inclusion of the antenna suggests this might be an attractive option for people who have poor cellphone reception in their homes, as the antenna should enhance reception.
Wireless landline replacement is likely to see increased interest moving forward, now that the FCC has proposed a landline replacement trial that would rely on offerings similar to what U.S. Cellular and the other carriers have launched. The commission has not yet determined whether carriers would be allowed to permanently switch customers in trial areas to the wireless-based replacement service. But long term at least one incumbent carrier – AT&T – is hoping to be able to do a broad scale change-out of its traditional landline voice service.
Lessons learned from U.S. Cellular Home Phone service could be of particular interest to TDS Telecom, the landline incumbent carrier with which U.S. Cellular shares common ownership.