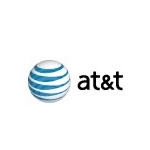 As expected, AT&T today announced a substantial expansion of its broadband offerings, telling attendees at an AT&T analyst conference about plans to expand U-verse and LTE offerings over the next few years. The company sees IP as its future – accordingly it has given the name Project Velocity, or VIP, to the new investment plan, which includes phasing out existing TDM infrastructure.
Noting that U-verse revenues have increased 38.5% and mobile data revenues have increased 19% year to date, AT&T CEO Randall Stephenson told conference attendees that in the next five years, "every industry is going to change and AT&T [will be at] the center of demand for high-speed IP fixed or wireless" service.
The broadband investment news came as part of a broader look at AT&T's overall strategy, which yielded a few surprises and offered new details about the company's plans for small cells, home monitoring and security, a nationwide wireless-based landline replacement offering and other initiatives.
Broadband plans
AT&T's broadband plans have been the subject of much speculation because the rural lines that cannot get broadband today increasingly are at risk as traditional voice service declines. According to plans announced today, the company said it will:
expand its U-verse triple play offering of voice, video and data service to 8.5 million additional customers – a plan that is expected to be "essentially complete" by year-end 2015
expand the U-verse IPDSLAM double play offering of VoIP and IP to 24 million customer locations by year-end 2013 and offer a triple play bundle based on IPDSLAM and satellite video service
expand LTE so that it covers 300 million people by year-end 2014, including unserved areas that cannot get broadband service today—AT&T Group President and Chief Strategy Officer John Stankey said this is not a fixed but rather a mobile offering
Currently about 9% of AT&T landline customers cannot get broadband, while 32% have the U-verse triple play available to them, 32% have U-verse IPDSLAM available and 27% are served via legacy broadband (i.e. non-IP DSL).
By the end of 2015, AT&T said 99% of customers in its local service territory will have broadband available to them via either a landline or LTE option. And an intriguing pie chart included in today's presentation shows how that would break down. About 43% of customers will have access to the U-verse triple play, 32% will have access to the U-verse IPDSLAM and the remaining 25% will need to rely on LTE, which will be available to 99% of AT&T's customer base. These plans would indicate that AT&T hopes to phase out its legacy broadband within three years.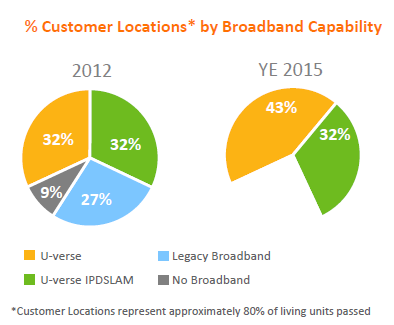 At today's event, AT&T Senior Executive Vice President of Technology and Network Operations John Donovan highlighted various benefits of moving to an IP-based infrastructure, including improved product delivery and greater network efficiency. The move also will entail "the sunset of . . . expensive operations support systems and business support system that have run the course of their useful lives," Donovan said.
To facilitate the shift to IP, one AT&T executive noted that the company today made a regulatory filing with the FCC asking for "21st century regulation for a 21st century investment like this." The executive added that investment dollars will go first to states that have adjusted regulatory policy in a way that would facilitate AT&T plans, such as giving incumbent carriers relief from certain carrier of last resort obligations.
A few surprises
AT&T also revealed several other noteworthy new initiatives at today's event, including:
Taking its Wireless Home Phone wireless-based landline replacement service nationwide and to eventually add data to that offering
Taking its AT&T Digital Life IP-based home security and automation nationwide in 2013
Plans to increase available broadband speeds to as much as 100 Mbps for U-verse and to as much as 45 Mbps for U-verse IPDSLAM
Bringing fiber to 50% of the multi-tenant buildings in its local service territory
An ambitious small cell deployment that will leverage U-verse fiber for backhaul
Leveraging fiber to cellsites to also support IP broadband to remote population centers
AT&T's total investment to support the plans detailed today will be $14 billion over three years. Other details, including the projected financial impact of AT&T's initiatives, can be found in a press release issued today.