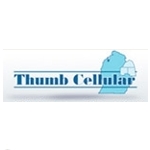 Four rural wireless carriers have now joined the Verizon Rural LTE program, with the announcement this morning that Thumb Cellular of Michigan is the latest carrier to reach agreement with Verizon. Thumb joins Bluegrass Cellular, Pioneer Cellular, and Cross Telephone as rural partners with Verizon to bring 4G LTE services to rural markets where Verizon does not intend to build out their own 4G network.
Thumb Cellular is based in Pigeon, Michigan and is a subsidiary of Agri-Valley Communications (AVC). Thumb operates a CDMA based wireless network in three Michigan counties in the northeast corner, or 'thumb,' of Michigan.
"We have a commitment to the communities that we serve and a dedication to maintain state of the art technologies for those that live in our service areas. Our decision to deploy LTE technology with its blazing fast speeds will benefit our customers and will complement our current wireline, and wireless CDMA services to provide the best broadband experience for our existing and new subscribers," said Ed Eichler, President of Thumb.
Given Verizon's 4G LTE coming out party at CES, Thumb and Verizon's other rural partners may have a lot to look forward to in terms of 4G capabilities. Verizon announced an expansive LTE ecosystem with 10 devices on the immediate roadmap, including four LTE smartphones and two LTE tablets.
It's not entirely clear whether Verizon's rural LTE partners will have access to Verizon's full LTE ecosystem or whether they will follow the same 4G pricing and usage parameters defined by Verizon. "At this time, no further details are available about equipment, pricing, usage, etc.," Verizon spokeswoman Robin Nicol tells Telecompetitor.
Thumb Cellular's sister company, Agri-Valley Broadband, also intends to launch LTE services using 700 MHz spectrum, which at the time of their announcement, was considered to be the first 'rural LTE' deployment in the U.S. Agri-Valley Broadband intends to use their 700 MHz LTE deployment for a fixed wireless, or wireless-DSL offer, while Thumb Cellular intends to eventually offer a true mobile broadband experience, Eichler tells Telecompetitor.
Eichler hopes to have the Agri-Valley LTE broadband system operational by April, which was later than he originally targeted. But some regulatory changes announced in December 2010 by the FCC concerning certification of LTE equipment delayed their progress.
Agri-Valley Broadband and Thumb Cellular join Agri-Valley Services and Pigeon Telephone Company as subsidiaries of Agri-Valley Communications.