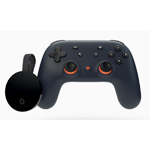 Joining a long list of Verizon Fios gigabit promotion offers is a Google Stadia cloud gaming package. Over the years, Verizon has offered a wide variety of bandwidth hungry applications to entice customers to make the leap to FTTP and gigabit services.
This latest value add package includes a free Stadia Premiere Edition with three months of Stadia Pro cloud gaming service. Stadia, by Google, is a cloud gaming platform offered as a game streaming replacement service for gaming consoles like Xbox and PlayStation.
The Stadia Fios gigabit promotion includes a Stadia controller and a Chromecast Ultra for streaming games on a TV, plus three months of service. It equates to about a $130 value. After 3 months, subscribers will be billed $9.99 per month for the service, if they choose to continue. Fios gigabit packages start at $79.99 per month.
"Fios has long been known as the leading Internet service for console gaming and streaming entertainment," said Brian Higgins, vice president, consumer device marketing and products, Verizon in a press release. "With the recent surge in adoption of cloud gaming, led by Stadia, Fios will continue to serve as the backbone for the best cloud gaming services."
Fios Gigabit Promotion
Google Stadia can stream at 4k and 60 fps, so it can be a bandwidth hog. So much so that some estimates predict Stadia could consume as much as 15.75 gigabytes (GB) per hour when used at the highest settings. That's led to concerns that customers who have broadband usage caps could run into serious problems.
Verizon has always touted the unlimited usage for its Fios service, so this fits right in. Verizon marketers have strived to package bandwidth hungry applications as Fios promotions for quite some time. Past offers have included free Disney+, Amazon Prime, and Netflix streaming promotions.
This isn't the first gaming promotion either. Back in 2018, Verizon offered a one-year Xbox Live Gold subscription for new Fios gigabit customers.