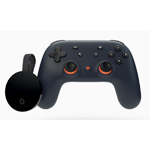 Gamers who frequently use the upcoming Google Stadia cloud gaming service are likely to generate enough traffic to exceed internet data caps, according to a new report from BroadbandNow.
Google Stadia is a gaming service that will launch in November and will not require an auxiliary computing device.
According to the BroadbandNow report, the "transition into game-streaming nirvana may be a bumpier one than many expect."
Google Stadia and Data Caps
BroadbandNow maintains a database of internet service providers that, among other things, includes information about providers' data caps. According to the database, the highest data caps usually are around one terabyte (TB) per month.
BroadbandNow researchers compared that information with:
NPD Group research that found that 34 million gamers play 22 hours per week on average
Reports that Google's new game streaming service will consume as much as 15.75 gigabytes (GB) per hour when used at the highest settings
If those 34 million gamers switched to using Stadia as their primary gaming platform, they would use about 1.386 TB per month, exceeding even the highest data caps, according to the researchers. And that assumes a household has only one internet user and that the internet connection is only used for gaming with Stadia.
To estimate how many likely Google Stadia users have a data cap, BroadbandNow surveyed U.S. households. Seventeen percent of the 943 respondents said they had a data cap and 21% said they didn't know if they had one or not.
Assuming that 17% of the 34 million potential Google Stadia users have a data cap, that would mean that about six million gamers are in danger of exceeding their usage caps.
"Currently, online gaming can consume data at a moderately quick pace," the BroadbandNow report states. "But users are typically only uploading and downloading smaller sets of data when playing a game that is installed on their local device. With a streaming service like Google's, the entirety of the game files have to be streamed in, increasing the bandwidth requirements dramatically in many cases."
Of course, internet service providers can and do periodically increase data caps, and Google apparently believes that will occur as Google Stadia is adopted. The BroadbandNow researchers cite a recent interview with a Google executive who noted that ISPs have "a strong history of staying ahead of consumer trends" and "we expect that will continue to be the case."