The pandemic is drastically changing the dynamic of WiFi use in the home as parents seek to keep their children educated and entertained. They also want to keep them safe, of course: Comcast has seen a 27% increase in the use of xFi parental control features, including a 43% increase in parents' activation of settings that filter web content while browsing and searching.
The company says that logging into xFi has increased 57%, that the median average weekday WiFi use has increased from three to four hours. Additionally, the number of times parents pause WiFi has grown 75%.
xFi Parental Control
The pauses have focused from 11 AM to 2 PM. "[S]ince March 9 there has been a 213 percent increase in WiFi pause during lunchtime," the company said in a blog post. "With more families staying home during the day, pausing the WiFi can be a way to extend rules that are typically applied to dinnertime to lunchtime. It may also be used to enforce study time for those who are being homeschooled during the day and not using online materials."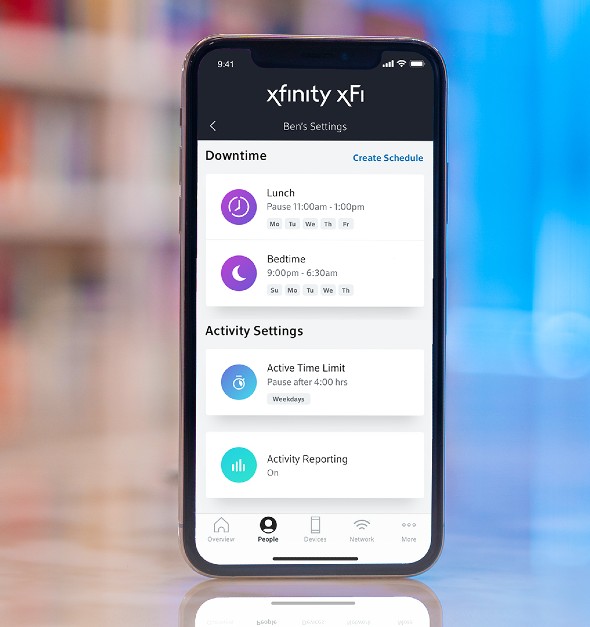 Comcast announced the xFi parental control scheduling feature, which provides deep insight into what kids are doing online, last November. It builds on the xFi bedtime mode, which enables as many as 30 screen time schedules per profile. It works across device types and can establish time allowances. At the time, Comcast pointed to statistics from Common Sense that found that 69% of kids have smartphones by the age of 12 and that the number of "tweens" and teens who watch videos online had doubled since 2015.
In January, Comcast said that its xFi Advanced Gateway was set to begin reaching subscribers. The gateway, which provides WiFi 6-enabled gigabit speeds, includes parental control features such as pausing WiFi, screen time scheduling and content filters.