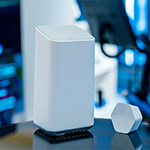 Comcast says that its xFi Advanced Gateway will begin reaching subscribers during the coming months. The device, which is WiFi 6-Certified, is the company's first home network offering capable of providing multi-gigabit speed services.
The xFi Advanced Gateway is designed for services such as cloud and online gaming, 4K video stream, virtual reality and augmented reality. Users of Xfinity Internet services average 50 devices per home, according to Comcast.
xFi Advanced Gateway
Subscribers can combine the gateway with xFi pods to create personalized mesh WiFi in their homes, Comcast says. The xFi Advanced Gateway offers parental control features such as pausing WiFi and screen time scheduling and content filters. The device, which offers xFi Advanced Security, can be accessed from iOS or Android, the xFinity website or via the Xfinity Voice Remote on the TV, on X1 and Flex.

"We designed the next-generation Advanced Gateway to be the fastest, smartest and most powerful WiFi device on the planet to continue to deliver on our promise of bringing our customers a great broadband experience," Kunle Ekundare, the Director of Product and Hardware Management for Comcast, said in a press release. "The xFi Advanced Gateway is truly the best Internet product we've ever built, and we're thrilled to be bringing our customers into the future with WiFi 6."
The xFi Advanced Gateway features:
Four simultaneous dual-band antennas that support both 2.4 GHz and 5 GHz bands.
A 2.5 Gbps Ethernet port to support wired speeds greater than 1 Gbps.
Bluetooth LE and Zigbee radios capable of connecting to virtually any IoT device.
Switchable mid-split support between 42 MHz and 85 MHz for greater upstream throughput.
Multiple streaming services simultaneously over WiFi.
Comcast joins Verizon and CenturyLink as major providers with announced WiFi 6 plans. Several smaller carriers also support the next generation WiFi technology.