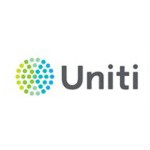 Uniti Group non-Windstream revenue should hit 50% of total revenue within two years, said Uniti Group Chief Financial Officer, Executive Vice President, and Treasurer Mark Wallace at an investor conference today. That would be a substantial increase from the current 30% level.
The company expects to achieve this through a combination of asset purchases and investment in its own network infrastructure. Reducing reliance on Windstream could be an important step in raising Uniti's value, which has declined in unison with recent declines in the value of Windstream stock associated with that company's decision to cut its dividend.
Uniti Group Non-Windstream Revenue Goal
Uniti Group is the unique telecom real estate investment trust (REIT) that was spun out of Windstream two and a half years ago. The company owns fiber and copper assets that originally belonged to Windstream and leases them back to Windstream for $650 million annually. The contract between the companies is for 13 more years and Windstream has the option to renew the lease for years after, Wallace explained.
After relying 100% on Windstream for revenue at the time of its spinoff, Uniti Group – original known as Communications Sales & Leasing — has reduced its reliance through acquisitions and by garnering contracts to provide dark fiber and small cell connectivity to network operators, often by deploying new infrastructure.
Generating predictable revenue flows is a key goal for Uniti Group, as the company's REIT status requires it to pay a specific divided annually. The company is most interested in acquiring assets associated with long-term contracts with anchor tenants that have good credit ratings, Wallace noted. Dark fiber contracts typically are for 20 years, while small cell contracts typically are for 10 years, he said.
The company also looks for assets that have "lease up potential," Wallace said. A cell tower typically can support three to four network operators, but fiber assets may be able to support many more. Before making an asset purchase, the company uses a model to gauge the lease-up potential of the asset, he noted.
New Twists on Sale/ Leaseback Deals
Despite initial expectations, the assets that Uniti Group has acquired since the spin-off did not follow the same sale-leaseback arrangement that the company used with Windstream. Instead, the company made outright acquisitions of companies such as PEG Bandwidth, Hunt Telecom and Southern Light. But that may not mean the sale-leaseback model is dead.
According to Wallace, Uniti is in discussions with several network operators about deals based on the sale-leaseback model. Some of these are regional fiber operators that need capital to invest, while others are what Wallace called "telecom companies."
In at least one case, discussions are not focused on Uniti buying virtually all of an operator's fiber and copper assets as it did with Windstream, but instead might involve "a market, a state or a few states," Wallace said. Also unlike with the Windstream deal, Uniti would continue to purchase assets from the operator over time using what Wallace called a "programmatic" approach.
Wallace also reiterated that Windstream would consider partnering with another company to make purchases.
Despite the drop in Uniti's stock value, Wallace doesn't anticipate difficulties making future acquisitions. Instead, he said the company will become "more creative on financing." He noted, for example, that in cases where the seller retains part of the company, Uniti might consider increasing the seller's share – as long as Uniti could have the right to acquire the partner's interest over time.
Wallace made his comments at the Deutsche Bank Leveraged Finance Conference, which was also webcast.
---