When Windstream stock values took a plunge after the company cut its dividend several weeks ago, Uniti Group's stock moved in near-lockstep. Almost two and a half years after Uniti Group was spun out of Windstream as a telecom-focused real estate investment trust (REIT), it seems Windstream/ Uniti Group fates are indelibly linked in investors' minds.
"We were spun out as a single-tenant REIT, which is not ideal and which has been part of the reason that we've been very focused on diversifying away from Windstream because we know that until we create more diversity, we will be linked and tethered to sentiment within the rural telecom industry and, more specifically, around Windstream," said Mark Wallace, EVP, CFO & Treasurer for Uniti Group, initially known as Communications Sales & Leasing, at an investor conference yesterday.
Windstream/ Uniti Group Links
Windstream's decision to cut its dividend was intended to enhance its credit position and stock value by enabling the company to pay down debt, but instead had the opposite impact on stock value because some investors perceived that the move reflected poor business performance.
"There was a perception that the dividend elimination was a . . . signal that the future performance of Windstream would be much worse than people anticipated," but that was not the case, said Wallace. He added that "We viewed it as credit-enhancing . . . from our standpoint as a landlord."
According to a Bank of America Merrill Lynch analyst who interviewed Wallace in a question-and-answer session, Windstream's annual payment to Uniti Group is $650 million yearly, which is almost twice as much as the $350 million he said Windstream spends on debt coverage, raising a key question: Wouldn't it be in Uniti Group's own interest to alter the terms and conditions of its lease agreement with Windstream?
"We don't view the lease as the problem," said Wallace. At the time of the spinoff, he said the lease was "designed and priced to be a fair market lease" and that the escalators are at below-market levels.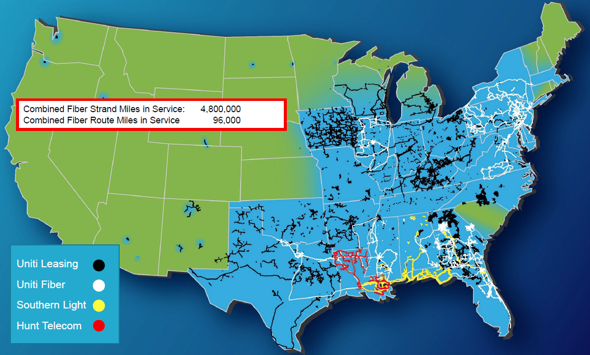 Instead, he said Windstream has "outlined ways they can stabilize and improve upon their top line performance and, more importantly stabilize and improve upon free cash flow and OIBDA performance." He praised acquisitions Windstream has made, arguing that they will be credit-enhancing because they will yield synergies (a.k.a. cost savings).
"There are a lot of levers for them to pull and to improve upon . . . that have nothing to do with the lease per se," Wallace said.
According to Wallace, Uniti Group's stock value has fluctuated between $15 and nearly $35 per share over the last two years, with changes in valuation linked, in large part, to changes in Windstream's valuation. Since the spinoff, Uniti Group has made several key acquisitions that have helped diversity the company's revenue stream, and according to presentation materials prepared for today's conference, the company now gets 30% of its revenue from non-Windstream sources.
Uniti Group has more deals in the works and, according to Wallace, pursuit of those deals is not impacted by changes in the company's stock valuation.
"If every time our stock came under pressure we pumped the brakes on M&A, we would be behind on our M&A pipeline," he said.
Wallace made his comments at the Bank of America Merrill Lynch Media, Communications & Entertainment Conference, which was also webcast.