Uniti Group, the telecom real estate investment trust (REIT) that was spun out of Windstream Communications, said today that it plans to acquire Southern Light, operator of a fiber network serving tier two and three markets in the southeastern U.S. The Uniti Southern Light purchase is valued at $700 million.
Southern Light has experienced "industry leading growth and margins," said Uniti CEO Kenny Gunderman on a conference call with investors this morning.
The acquisition plans come on the heels of Uniti's purchase of Hunt Telecom and name change from Communications Sales & Leasing (CS&L). Together, the Hunt and Southern Light purchases will reduce the portion of Uniti's revenues that come from Windstream to 30% and expand the company's network. According to a press release, the acquisition will bring Southern Light's 5,700 fiber route miles and over 4,500 on-net locations into the Uniti fold.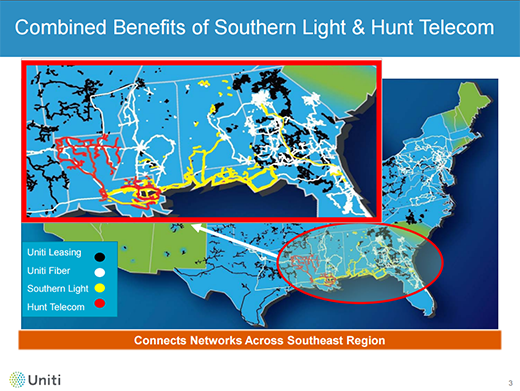 Uniti Southern Light Purchase
As it has expanded its network, Southern Light's strategy has been to use a wireless carrier or government account as an anchor tenant. According to a Uniti presentation about the acquisition, 44% of the revenues that Southern Light has under contract are for dark fiber and small cells.
Southern Light owns virtually all of its fiber – a factor that Uniti emphasized on the call. One reason that is important is that it increases the potential assets that could be moved into the Uniti REIT. As it began making non-Windstream acquisitions, Uniti (then known as CS&L) realized the need to create a non-REIT unit to absorb assets that were not suitable for inclusion in a REIT. Assets in the REIT have the advantage of avoiding taxes but only certain types of assets – including dark fiber – can be put into the REIT.
In comments made on today's investor call, Gunderman suggested that not all Southern Light assets will be REIT-able. In a question about this, Gunderman re-iterated that Southern Light owns virtually its entire network, which means that there is "substantial potential to move a lot of that into the REIT."
He added that Southern Light has "a tremendous amount of dark fiber in contracted billing and even more in identified backlog and so over time we would see a lot of that moving into the REIT."
Other highlights of the Uniti Southern Light transaction:
The average remaining Southern Light customer contract term is 10 years, which will increase Uniti's average to more than six years
Uniti likes tier two and three markets because it sees them as less competitive than larger markets
Half of Southern Light's revenues come from national wireless carriers, 30% from wholesale and enterprises and 14% from government and E-rate customers.
Financial details about the Uniti Southern Light deal can be found in today's press release.