Uniti Group, the real estate investment trust (REIT) spun off from Windstream several years ago, is exploring the purchase of fiber assets through partnerships with other companies and has seen "substantial interest" from potential partners, said Kenny Gunderman, Uniti Group CEO at a financial conference yesterday.
Buying fiber assets with a partner means "essentially unlocking multi-arbitrage immediately on day one associated with the real-estate value of the fiber," Gunderman said. The reference to arbitrage apparently relates to Uniti Group's ability, as a REIT, to avoid taxes associated with certain network assets – primarily dark fiber and copper. Among asset classes, Gunderman expressed a strong preference for fiber.
Uniti Group Sale/Leaseback Strategy
Buying fiber assets with partners is one of three ways Uniti Group envisions using a sale-leaseback approach, Gunderman said.
Originally known as Communications Sales and Leasing, Uniti Group initially focused on purchasing assets which it then leases to network operators on an exclusive or non-exclusive basis. In the spinoff from Windstream, for example, Uniti gained ownership of Windstream fiber and copper assets, which it leases back to Windstream on an exclusive basis. Since then Uniti Group has focused to a large extent on fiber assets by, for example, purchasing PEG Bandwidth and leasing PEG fiber to network operators on a non-exclusive basis.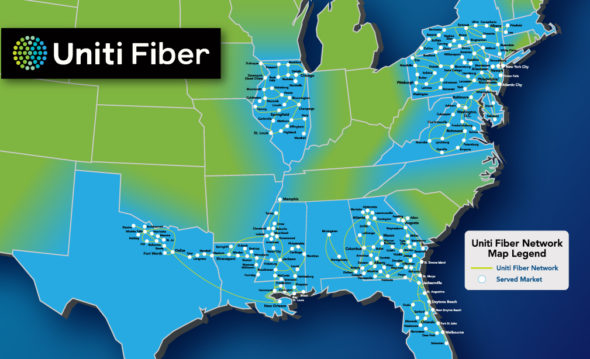 The third sale/ leaseback option that Gunderman outlined involves Uniti deploying fiber for anchor tenants and leasing that fiber on an exclusive or non-exclusive basis – an approach the company has been using for lessees wanting fiber connectivity to cell towers. Gunderman said this approach is much like offering an indefeasible right of use (IRU) on dark fiber.
Purchase Criteria
In considering any of these options, Uniti Group has three criteria, Gunderman said:
The asset must of high quality with a long life
The lessee must have strong credit
The economics must make sense for Uniti's model, which means meeting benchmarks for cash flow yields
Uniti also has a preference for assets in Tier 2 and Tier 3 markets, Gunderman noted. The company encounters less competition in bidding to provide fiber connectivity in those markets, he said. And despite a perception among some people in the telecom industry that small cells are primarily for crowded urban areas, he said he is seeing demand for small cell connectivity in Tier 2 markets.
Uniti recently completed the acquisition of fiber network operator Hunt Telecom and according to Gunderman there are "dozens" more companies similar to Hunt Telecom that it might make sense for Uniti to acquire.
Gunderman made his comments at the Cowen and Company Communications Infrastructure Summit in Boulder, Colorado, which was also webcast.