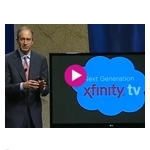 I've been covering both the IPTV and cable sectors for the past decade. What I've witnessed is typical of most competitive scenarios. Upstarts, IPTV providers in this example, try to take market share away from incumbents, cable MSOs in this example, by offering more innovation in the targeted product, subscription video in this example, in addition to pricing it competitively.
Cable companies followed this scenario for telephony services with great success. They improved the home phone experience with bundled VoIP offers that added utility and value over plain old telephone service (POTS), and took millions of subscribers away from incumbent phone companies in the process.
IPTV operators also followed this scenario (although not to the level of success that cable had with telephony). By using the innovation that IP enables, they introduced a fresh new approach to video service, improving on the video experience with tools like better interactive program guides and integrating communications services like caller ID into the television.
Using IP technology, telcoTV providers added even more features like integrating apps and widgets into the overall video experience. Examples include Verizon's FiOS Widget Bazaar and AT&T's Multi-View. FiOS customers have been able to interact with Twitter, Facebook, and YouTube for quite some time now.
But the news coming out of Chicago this week during the Cable Show points to a closing of this interactivity and apps gap. Depending on your perspective, maybe even surpassing the IPTV benchmark. Comcast unveiled a flurry of product enhancement announcements that when implemented, will help close this aforementioned gap, including Skype integration and the manifestation of the much rumored Project Excalibur.
Excalibur is Comcast's next generation Xfinity TV experience which combines a new set-top-box, new interactive guide, app integration, and new discovery and personalization options. Much of this functionality is being managed through the 'cloud.' The new services are currently undergoing trials in Augusta, Georgia. According to Comcast, the new features include:
Fast, intuitive search that lets users find what they want to watch in seconds from thousands of choices on TV, On Demand, on their DVR, or from a selection of additional content.
A more personalized TV experience called MyTV® where users can see and access all of their recordings, favorites and recommendations in one place that reflects their interests, favorite series, sports teams, movies and music.
Interactive apps that are easy to access and enhanced for TV, like traffic and weather, and social apps like Facebook® that let users share and discover what to watch with their friends.
Intel Corporation provided the Intel® Architecture-based CE SoC for the new set-top boxes, delivering the CPU and graphics performance required for the service's advanced user interface, fast responsive performance and new interactive applications.
Pace plc, a leader in digital TV technology, developed the powerful hybrid set-top box with tru2way and IP capability that enables the new television experience.
thePlatform®, a leading video publishing company wholly owned by Comcast, is bringing its cloud-based video publishing system, mpx, as the content management infrastructure for the service.
And it's not just Comcast. Cox and other cable MSOs are moving forward in similar ways. It all adds up to the closing of the gap with telcoTV providers that I referred to earlier. So much so, Verizon felt compelled to issue a press release this week saying, hey despite what you hear coming out of Chicago, we've got some cool stuff too.