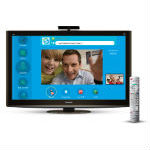 Comcast and Skype today announced they will partner to enable the cable MSO's subscribers to communicate with family and friends via an HD video calling service on their TVs. Comcast subscribers will "soon be able to make and receive Skype video calls from their television, whether their friends and family use Skype on their home TVs, PCs, compatible smartphones or tablets," according to a press release.
In its first major initiative since the announcement it was to be acquired by Microsoft, Skype and Comcast's HD video calling service will highlights the growing opportunities of integrating Skype services into other platforms.  "As real-time video communication becomes a more integral part of the way people connect, Skype and Comcast will bring a simple, affordable, high-quality video calling experience to millions of homes." Customer trials are slated to begin in coming months, with additional details to be made available later this year.
When ready for launch, the new service hopes to enable Comcast subscribers to:
Make and receive Skype video and audio calls, or send instant messages via Skype on a television while watching their favorite TV show at the same time, and accept incoming calls during a TV show with the help of Caller ID;
Make and receive video and audio calls, or send instant messages via Skype on a compatible mobile phone or tablet;
Import friends to their address book from their Facebook, Outlook, Gmail and smartphone contact lists, find them on Skype and see when contacts are online and available to talk.
The service will be delivered on customers' HDTV through an adapter box, a high-quality video camera, and a specially designed remote control that enables users to text on Skype as well as control their TV. The other calling party will not need any special equipment beyond what is needed to use Skype, according to the press release. Comcast's Xfinity Mobile app will enable subscribers to make use of the service on their mobile connected devices, as well as switch from one to another.
The move illustrates the growing integration between communications and entertainment, and service providers desire to leverage this integration for competitive advantage.