AT&T kicks off the next evolution of its 5G journey today, with the launch of 5G service for consumers in ten markets. AT&T consumer 5G differs from previous AT&T 5G launches which initially targeted business and enterprise customers.
The ten initial markets for AT&T consumer 5G include Birmingham, Ala.; Indianapolis; Los Angeles; Milwaukee; Pittsburgh' Providence, R.I.; Rochester, N.Y.; San Diego; San Francisco and San Jose, Calif. AT&T also introduced the Samsung Galaxy Note10+ 5G device for use on their consumer 5G network, which uses lower band spectrum for 5G.
"Today's launch sets the stage for the development of new and immersive experiences as we prepare to deliver AT&T 5G nationwide in the coming months," said Kevin Petersen, senior vice president AT&T Mobility in a press release.
AT&T 5G Networks
AT&T has two flavors of 5G. The consumer version, or AT&T 5G, uses what AT&T calls "sub-6 spectrum," which the carrier confirmed uses 850 MHz spectrum. This offers broader range, but slower speeds than the carrier's second 5G offering, branded as AT&T 5G+.
AT&T 5G+ uses millimeter wave spectrum, providing much higher bandwidth throughput, but at much shorter range. That service is offered in urban cores and pockets of high density like stadiums and college campuses. AT&T 5G+ was AT&T's first 5G offer and is currently available in parts of 23 cities.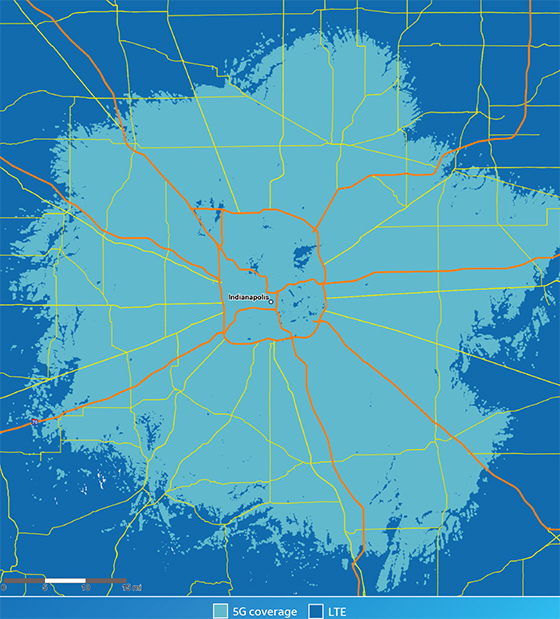 Adding a bit of 5G confusion, AT&T also markets 5G Evolution, which technically is a 4G LTE Advanced technology, and is the 4G network that consumers will access when they are out of range of the other true 5G networks. If 5G Evolution is not available, customers will access plain old 4G.
Today's press release makes no mention of 5G pricing. We previously reported that customers who want AT&T 5G service will need to subscribe to one of the upper tiers of its three-tier unlimited service offerings. Customers can choose either the AT&T Unlimited Extra plan, which costs $75 a month for a single line, or the AT&T Unlimited Elite plan, which costs $85 a month for a single line. If a customer purchases four lines, the cost per line drops to $40 monthly for Unlimited Extra or $50 for Unlimited Elite.
AT&T joins T-Mobile with low band 5G service, providing the best coverage and range. Sprint offers 5G in midband 2.5 GHz spectrum, which also enables broader coverage than millimeter wave. Verizon currently offers only millimeter wave 5G, and thus doesn't have a wide coverage for its 5G markets. Verizon also offers a fixed wireless broadband service using 5G, targeting urban dwellers with a replacement type service for FTTH and cable broadband service.