Sprint said today that it has expanded 5G coverage to include 16 million people within nine metro areas. The company previously launched service in these markets but now has expanded coverage within some of the markets.
The company initially launched service in Atlanta, Dallas-Fort Worth, Houston and Kansas City in May, later adding Los Angeles, New York City, Phoenix, Washington D.C. and Chicago.
Sprint 5G Coverage
Sprint has been deploying 5G in the 2.5 GHz band, which provides greater range in comparison with the millimeter wave band used by competitors for 5G. The downside is that speeds aren't as fast as in the millimeter wave. Nevertheless, according to today's press release, service is six times as fast as Sprint's LTE service.
The release cites speed testing from Ookla that measured Sprint's 5G coverage at an average of 201.2 Mbps, in comparison with 35.7 Mbps for Sprint LTE service.
The carrier also cites drive testing conducted by wireless network analytics company P3 in Sprint 5G metros that showed that testers remained on the Sprint 5G network 80% of the time. The service falls back on LTE where 5G is not available. According to P3, "Sprint is the only carrier with a meaningful 5G footprint."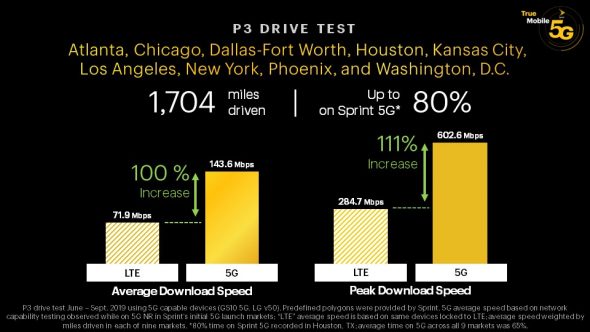 Sprint also took the opportunity to tout its use of 64T64R (64 transmitter, 64 receiver) Massive MIMO technology from Ericsson, Nokia and Samsung in today's press release.