Certain customers will be able to get a 5G smartphone for free from T-Mobile, which said today that it has turned up 5G service nationwide. Customers who switch from another carrier and trade in an eligible phone will be able to get the OnePlus 7T Pro 5G McLaren for free. In addition, new customers who buy two lines and a Samsung Note10+ 5G phone will be able to get an additional Note10+ 5G phone for free and existing customers who add a line and purchase a Samsung Note10+ 5G phone will be able to get a second Note10+ 5G for free.
According to a press release, the devices are "free with 24 bill credits" for customers meeting requirements. Customers are set up on finance agreements for the devices, but apparently the monthly credits cover the monthly payments. Customers canceling their accounts before the finance agreement expires, however, will have to pay the remaining balance. The OnePlus 5G phone retails for $899.99 and the Samsung 5G phone sells for $1,299.
Existing customers also can get up to $300 off the OnePlus device or up to half off the Samsung device "via trade-in credit and rebate" when they trade in an eligible phone.
The devices are available now for pre-order and will be in stores beginning Friday.
Notably, both devices work in the 2.5 GHz band, as well as in the 600 MHz band that T-Mobile is using for its nationwide 5G service. The 2.5 GHz band is the one in which Sprint has large holdings nationwide and which it has used to provide 5G service in several metro markets. T-Mobile expects to use that spectrum for additional 5G deployments if its planned merger with Sprint is completed.
T-Mobile also said it expects to launch more than 15 new 5G smartphones with "a variety of price points and features" in 2020. The carrier also noted that, unlike competitors AT&T and Verizon, it won't be charging extra for 5G service.
T-Mobile Nationwide 5G Launch
The 600 MHz spectrum that T-Mobile is using for its nationwide 5G launch provides broader coverage in comparison with the millimeter wave spectrum that AT&T and Verizon have used for their 5G launches to date – and which T-Mobile itself has used in parts of several markets. The downside is that the data speeds supported will not be as fast.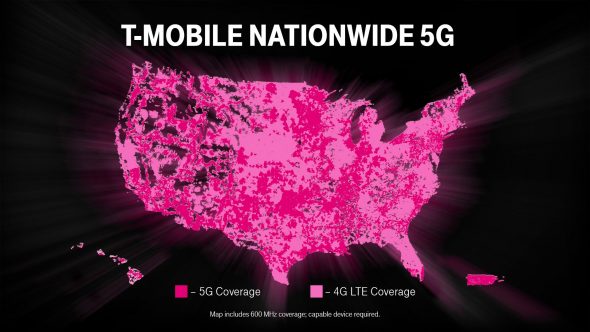 Carriers have seen speeds in the hundreds of megabits per second range for 5G service deployed in the millimeter wave band. But in an email to Telecompetitor, a T-Mobile spokesman said that in some areas, customers using 600 MHz 5G won't see much difference from LTE.
He also noted, though, that "In some places, 600 MHz 5G will be a lot faster than LTE. . . On average, customers with a 600 MHz 5G phone should see a 20% download speed boost on top of what T-Mobile's LTE network delivers, and they can expect that to get exponentially faster over time, just like we saw when 4G was first introduced."
According to today's press release, T-Mobile's 5G service now covers more than 60% of the U.S. population, or 200 million people, and more than 1 million square miles.
T-Mobile won't be alone in offering 5G using lower-frequency, also known as low-band, spectrum for long. AT&T has said it also plans to launch low-band 5G before the end of the year.
Update: T-Mobile contacted us to say that there was a mistake in the press release and that customers choosing the Samsung free phone offer would be credited over 36, rather than 24, months.