AT&T said today that it will have 5G service available to "tens of millions of consumers and businesses" before the end of the year. To support this rollout, the company plans to use low-band spectrum, which provides broader coverage, albeit at lower speeds, in comparison with the millimeter wave spectrum that the company used for its initial 5G launches. AT&T also has rethought its 5G pricing and said it will begin taking orders for its first low-band 5G smartphone, the Samsung Galaxy Note10+ 5G, on Monday.
AT&T 5G Pricing
When AT&T initially launched 5G, it charged $70 a month for 15 gigabytes (GB) of data. But as today's release indicates, the company now will require customers to purchase unlimited service from one of the upper tiers of its three-tier unlimited service offerings. Customers can choose either the AT&T Unlimited Extra plan, which costs $75 a month for a single line, or the AT&T Unlimited Elite plan, which costs $85 a month for a single line. If a customer purchases four lines, the cost per line drops to $40 monthly for Unlimited Extra or $50 for Unlimited Elite.
These are AT&T's most costly plans. Plans that don't support 5G include two that have a specific monthly data allotment and which are priced as low as $30 a month for four lines or $50 a month for a single line, as well as the lower-tier unlimited plan, which costs $35 monthly for four lines or $65 for a single line.
Traditionally, when carriers have launched a new generation of wireless service, they have not required customers to pay extra for service supporting the newer-generation connectivity. But when it comes to 5G, carriers are rethinking that tradition. Verizon has indicated plans to add $10 a month onto customers' monthly bill for 5G access, although the company initially has waived that fee.
AT&T's decision to require 5G customers to purchase one of the company's upper-tier unlimited plans may be a bit more palatable option.
AT&T 5G Markets
In "the coming weeks" AT&T said it will launch 5G low-band service in parts of Indianapolis; Pittsburgh; Providence, R.I.; Rochester, N.Y. and San Diego. Also on tap for low-band service are Boston; Las Vegas; Milwaukee; New York City; San Francisco; Birmingham, Ala.; Bridgeport, Conn.; Buffalo, N.Y.; Louisville, Ky.; San Jose, Cal. and others.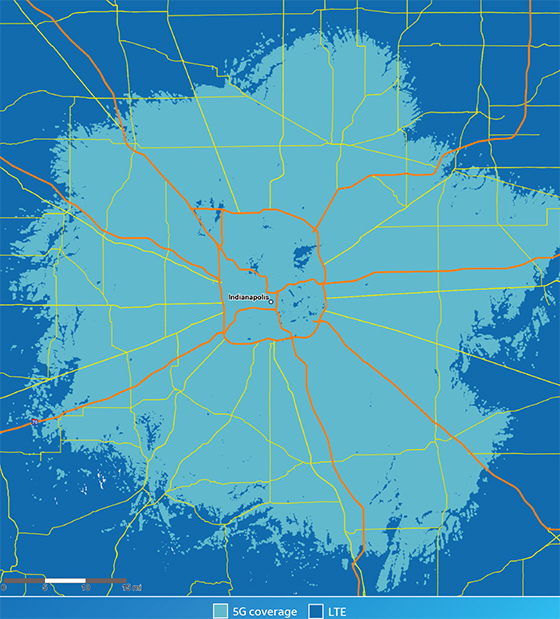 The company previously launched 5G using millimeter wave spectrum in parts of 21 markets. Most of the markets targeted for low-band 5G are brand new, but several – New York, Las Vegas, Indianapolis, Louisville, San Francisco and San Jose – will have both low-band and millimeter-wave 5G.
AT&T's low-band 5G announcement comes just a week or so after T-Mobile said it will turn up 5G service nationwide on December 6. That network also will use low-band spectrum.
Verizon and Sprint also have turned up 5G in some markets, with Verizon using millimeter wave spectrum and Sprint using mid-band spectrum.