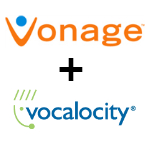 Next to wireless, hosted voice and cloud services probably represents the fastest growing business opportunity for telecom carriers and VoIP provider Vonage wants in. They announced today a $130 million acquisition for cloud based communications provider Vocalocity. The transaction includes $105 million in cash and $25 million in Vonage common stock, and has been approved by both company's respective boards.
Vonage has been a pioneer of sorts in consumer VoIP and its only natural progression for them to make a big move into hosted voice for the business sector. They either had to build the capability themselves or buy into it.
"Entry into the SMB segment is a key element of the growth strategy we outlined last year," said Marc Lefar, Vonage Chief Executive Officer in a press release announcing the acquisition. "Vocalocity accelerates our entry with a comprehensive, high-quality product suite and scalable platform. In addition, Vocalocity's software orientation, customer focus and innovative approach are a natural fit with our culture."
Vocalocity offers a cloud based hosted IP service, targeting businesses of 20 or fewer employees. At the end of the last quarter, they claimed 21,000 customers and year-to-date revenue of $28 million, which was 39% higher than the previous year.
Carriers of all stripes and sizes are ramping up their hosted IP capabilities to seize on this growing opportunity. I actually wonder what took Vonage so long, considering they've been basically an upstart IP voice provider since the beginning. More traditional carriers have a TDM legacy, which can make it harder to move into hosted IP, both technically and culturally speaking.
That is beginning to change though. A growing number of options are now available including wholesale partners like ANPI and infrastructure players like Metaswitch who are happy to empower carriers to make the hosted IP leap.