Like all national carriers today, Verizon is making huge investments in 5G. Among those carriers, Verizon is also the biggest champion of 5G fixed wireless, having launched its 5G Home service in 4 markets, offering a wireless alternative to wireline home broadband offers from cable and other competitors.
The service is off to a bit of a slow start. Despite promises of eventually taking the service to 30 markets, it's still only available in small parts of four markets since it's late 2018 launch. But according to Verizon executive Ronan Dunne, group CEO for Verizon Consumer, the company continues to have patience for what he believes will become a disruptive broadband service.
"I think it gives us the choice of being patient or disruptive as we choose," commented Dunne in response to a question about Verizon's 5G home deployment timeline at yesterday's Bernstein virtual 36th Annual Strategic Decisions Conference. "The nature of it is that we have the flexibility of being market by market in the opportunities."
Verizon 5G Home Broadband Vision
Dunne laid out a vision for Verizon 5G Home during his interview, that foresees a time when consumers will buy home broadband service in the same way they buy wireless service today. It is just buying another line, or another device in Dunne's vision, just like consumers do today with their wireless buying habits. 
"The nature of the line between the wireless business and wireline business is blurring," said Dunne. "I don't necessarily see them in the medium term as being two discreet markets anymore."
Of course, Dunne and Verizon have a vested interest in hoping that vision becomes reality, given their investment in 5G and their wireless first posture as a company. Whether consumers and the marketplace agree is a subject of debate. And whether Verizon can deliver on that promise has yet to be seen as well. They currently have a relatively tiny 5G Home footprint and have been preaching patience for some time now.
Dunne outlined the delay as having a few culprits. Availability of new higher powered 5G Home CPE at scale has been an issue for a while. Verizon originally launched 5G home with proprietary 5G technology, and only recently with its October 2019 Chicago launch, offered 3GPP compliant 5G NR technology for 5G Home.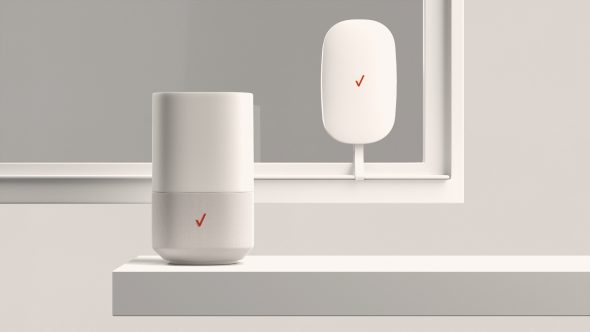 Verizon has been waiting for higher powered 5G NR CPE to be shipped at scale, which should better enable home installs and provide better performance. Verizon and Dunne have evangelized 5G Home as eventually offering better performance than competing cable DOCSIS broadband services, including potential symmetrical gigabit broadband type performance. The service currently sells for $50 monthly with a qualifying Verizon Wireless service or $70 a month for non-Verizon Wireless users.
Dunne suggested that when this better 5G Home CPE is widely available, consumers would even be able to easily test drive 5G Home and compare its performance in real time to their current broadband service.
Home Broadband Just Another Device
When and if this promise is met at scale, meaning 5G Home is available to millions of subscribers, across multiple markets, Dunne sees consumer thinking and behavior towards home broadband changing. He envisions consumers thinking of home broadband as just like buying another wireless line from their Verizon plan.
Instead of a 3 or 4 line wireless plan, consumers will buy a 4 or 5 line plan, with one line being their home broadband. Or they think of home broadband as just another device, another smartphone if you will. If a customer moves, they simply take their home broadband with them, just like they take their smartphone today.
A lot needs to happen before this vision can be reality, not the least of which is Verizon dramatically expanding their 5G home footprint. Additionally, there is not a big enough 5G Home sample size to determine whether it is indeed a viable competitor to wireline broadband. "Minor details" to say the least. Not everyone shares Verizon's enthusiasm for 5G fixed wireless.
Dunne remains excited. "If I had the opportunity to sell 5G Home in the last 12 weeks, I would have made out like a bandit," he said.