CoBank, a key lender to the rural telecom industry, has issued a white paper expressing skepticism about 5G fixed wireless forecasts, such as one from ABI Research, which calls for 26% annual revenue growth worldwide. CoBank also challenges the Verizon 5G fixed wireless forecast which, it says, calls for a 20% to 30% take rate.
"To us, these market penetration and revenue forecasts seem optimistic," CoBank writes in the white paper.
As CoBank explains in the white paper, 5G fixed wireless technology is expected to provide speeds in the range of 300 Mbps to 1 Gbps. Typically, an access point is mounted on a fiber-connected pole within 1,000 to 2,000 feet of customers, the author explains.
It's important to note that the deployment scenario that the white paper describes would typically be associated with high-frequency spectrum such as the millimeter wave spectrum that Verizon is using for its initial fixed 5G rollouts. The higher-band spectrum can support the highest-speed fixed 5G services but over relatively short distances.
Verizon is targeting parts of metro markets where the company doesn't offer fiber to the home for its fixed 5G rollouts, which commenced in October. And as a lender to rural network operators, it's not surprising that CoBank sees the potential of 5G fixed wireless differently than Verizon does.
"Building these networks comes with significant execution risk and leverage demands that could be problematic given the current EBITDA levels for many [wireless ISPs]," the white paper says.
The author also notes that "[w]e see issues related to site acquisition, high CPE/installation costs, spectrum propagation, competition and the capital required to build the networks as significant headwinds" for fixed 5G.
Digital Divide Impact
Although a fixed 5G deployment may be easier to cost justify in metro markets than in rural ones, the CoBank white paper argues that the Verizon fixed 5G forecast is too high. The author expects Verizon to achieve take rates in the range of only 15% — and only after a period of several years.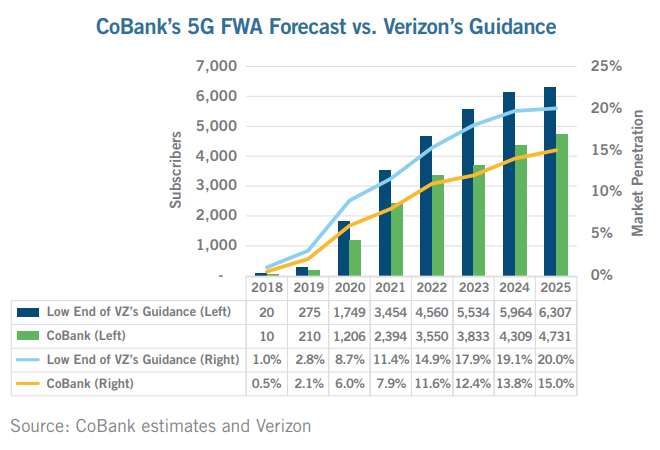 The author also expresses concern that if Verizon doesn't achieve its forecast, the fixed 5G equipment ecosystem will not experience the economies of scale that some expect for the technology, potentially making it more difficult for all network operators to find a business case for fixed 5G wireless. This could particularly impact rural operators and their ability to help bridge the digital divide, CoBank argues.
The CBRS Band Wild Card
The CoBank white paper isn't totally negative on fixed wireless or even 5G fixed wireless, however.
"We do think that 5G [fixed wireless] could be a potential upgrade path for existing LTE fixed networks in rural America," the white paper says.
The author also notes that the lower-frequency CBRS band may hold greater potential than millimeter wave spectrum for rural 5G fixed wireless.
In comparison with millimeter wave fixed 5G, a fixed 5G deployment in the CBRS band would have longer range, albeit at somewhat lower speeds – and as the white paper notes, CBRS band signals "travel much farther and can penetrate buildings."
There is some uncertainty about the business case for 5G fixed wireless in the CBRS band, however. As the author notes, some CBRS spectrum will be available for unlicensed use and some for licensed use, and it is not yet clear how crowded the unlicensed CBRS spectrum will be or how much CBRS licenses will cost for those operators that decide to bid on those licenses.
The upshot, according to a CoBank video about 5G fixed wireless, is that "at this stage there are more questions than answers."
White paper author and analyst Jeff Johnston says in the video that "[w]e see numerous financial and operational headwinds that have yet to be resolved."
CoBank isn't the first industry observer to express skepticism about Verizon 5G fixed wireless. New Street Research believes Verizon could achieve 24% take rates in some markets but argues that the business case could be difficult even at those take rates.
The CEO of the nation's largest wireless ISP, however, told us recently that he sees "promise" in using fixed 5G for suburban deployments, arguing that it will offer speeds comparable to FTTH at a lower investment.