The latest bundling of initiatives from the organization originally known as the Metro Ethernet Forum goes beyond the organization's original focus to also encompass wavelength, IP, SD-WAN, security-as-a-service and possibly other areas. The new bundling is dubbed MEF 3.0.
MEF 3.0, which MEF refers to as a "global transformation framework," also broadens the organization's traditional standards and certification focus to include application programming interface (API) development and the creation of communities of interest to focus on niches within the organization's broad focus areas.
On-Demand Certification
MEF also has re-invented its certification program, explained MEF Chief Operations Officer Kevin Vachon in an interview with Telecompetitor.
After MEF created the Carrier Ethernet 2.0 series of standards and certification programs several years ago, "the industry said it didn't want Carrier Ethernet 2.1, 2.2 and 2.3," said Vachon. "They didn't want to have to re-certify every year."
To address these sentiments, MEF is moving to a more flexible subscription-based certification program. Service providers and vendors will be able to purchase a subscription to a cloud-based certification program and certify "as much as they want," Vachon said.
Certification also will be more granular, enabling a service provider, for example, to demonstrate support for one or more specific APIs. And while obtaining previous certifications might have required several weeks, future certifications could take as little as a few hours, according to Vachon and Pascal Menezes, MEF chief technology officer. As a service provider receives a certification, a MEF portal is automatically updated to indicate the certification, they explained.
MEF 3.0
MEF 3.0 was announced  at MEF17, the MEF's annual conference taking place in Orlando this week. According to Vachon, automation of services across multiple carrier networks is a key focus of this year's event.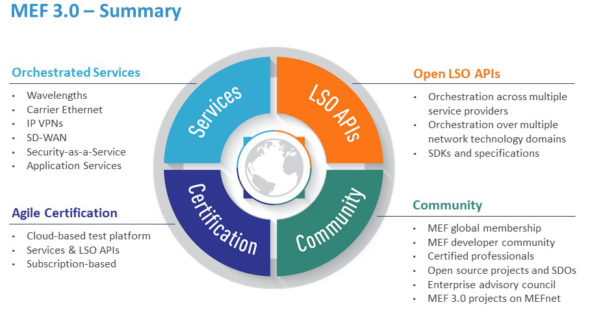 The APIs whose development MEF is coordinating can play a key role in enabling inter-carrier automation. MEF previously defined interfaces dubbed Sonata and Interlude to help facilitate interconnection.
Vachon pointed to the example of a U.S.-based enterprise that could initiate a new circuit by issuing a command through a portal that would carry out provider-to-provider service initiation via underlying APIs.
APIs that already have been completed include inter-carrier ordering and serviceability, Vachon said.
Also completed is the Carrier Ethernet Release 1 standard (CE R1) which incorporates all developments involving Carrier Ethernet service since CE 2.0 was finalized several years ago, he said.
MEF aims to complete standards for wavelength and IP services in 2018. Standards for SD-WAN and software-as-a-service will follow, possibly later in 2018.
Increased Emphasis on Community
Menezes pointed to several examples of how MEF will enlist the help of communities of interest in its standardization and API development efforts.
He noted, for example, that representatives from several MEF member companies are working on security-as-a-service. In addition, MEF is encouraging universities to commit students to work on various projects such as advanced artificial intelligence analytics.