Service provider software-defined wide area networking (SD-WAN) offerings could get a boost from two new MEF SD-WAN initiatives, MEF representatives told Telecompetitor this week. Those initiatives, announced today, include a white paper defining service provider SD-WAN terminology, as well as a new standards effort aimed at defining open SD-WAN open APIs (application programming interfaces) between carrier operations support systems/ business support systems (OSS/ BSSs) and SD-WAN equipment.
MEF SD-WAN Open APIs
SD-WAN is a hot area  in networking. SD-WAN devices installed at a business customer's location or in the cloud or a data center are designed to enable businesses to minimize WAN costs and/or improve WAN performance. Typically the equipment connects to two or more WAN connections – for example, direct Internet access and MPLS – and makes decisions about which connection to use based on pre-established parameters that take into account the real-time performance of each connection and the service level required for specific applications.
Some enterprises may prefer to outsource SD-WAN management – but according to MEF CTO Pascal Menezes, the availability of those offerings has been limited because SD-WAN equipment vendors today have used proprietary interfaces that don't easily interface with service provider OSS/BSSs. Service providers, according to Menezes, either have launched SD-WAN only on a trial basis or have had to get the SD-WAN vendor to create a custom interface between its offering and the service provider's OSS/BSS.
"If [you have] a thousand providers, you can't do a thousand APIs," commented Menezes.
The MEF was a logical organization to undertake the development of SD-WAN open APIs to interface with service provider OSS/BSS because that work will be complementary with existing MEF initiatives pertaining to network-as-a-service and lifecycle service orchestration (LSO), Menezes said.
SD-WAN Terminology
Another SD-WAN challenge is terminology, noted Ralph Santitoro, who is co-chair of MEF's global marketing committee and an MEF director as well as distinguished fellow and head of the SDN/NFV Solutions Practice at Fujitsu Network Communications. Service providers have encountered challenges discussing SD-WAN with potential customers because terminology varies from one stakeholder to another, he said.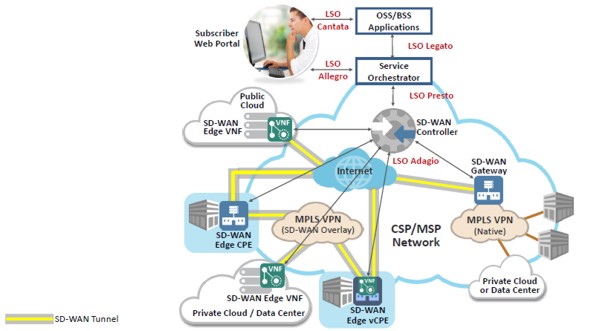 The MEF white paper released today aims to address this by defining a range of SD-WAN terminology. The goal is for stakeholders to use the white paper as a reference so that they can use consistent terminology when communicating with others about SD-WAN, Santitoro said.
In addition, the white paper reviews SD-WAN functions and service components and explains how the components fit within MEF's LSO reference architecture. SD-WAN managed services use cases are also included.