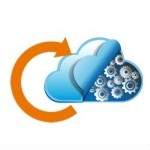 AT&T's open source ECOMP initiative, which aims to bring a higher level of standardization to the automation of communications service creation and turn-up, is having a broad industry impact, as news today of a MEF-Linux Foundation agreement illustrates. The Linux Foundation and the Metro Ethernet Forum (MEF) announced a memorandum of understanding aimed at coordinating their efforts on service orchestration – and according to Arpit Joshipura, general manager of networking and orchestration for the Linux Foundation, ECOMP plays a big role on the Linux Foundation's side of the agreement.
MEF-Linux Foundation Agreement
The Linux Foundation's role in the agreement with MEF focuses on the Open Network Automation Platform (ONAP), which aims to create open orchestration software that harmonizes ECOMP with a similar initiative known as Open-O that was spearheaded by network operators and stakeholders in China and builds upon the combined foundation, explained Joshipura.
AT&T developed ECOMP internally and released it to other service providers as open source software earlier this year with the goal of spurring the deployment of software-based services.
"ONAP sits between the control plane and the product or services a [network operator] would be selling," Joshipura explained.
The MEF portion of the new agreement pertains to three interfaces defined by the organization as part of its lifecycle service orchestration (LSO) initiative, which aims to combine the service agility of the internet with the assurance of traditional communications services. LSO interfaces include Sonata, Interlude and Legato and as Joshipura explained, the interfaces are "specifications" or "documents," while ONAP is "software."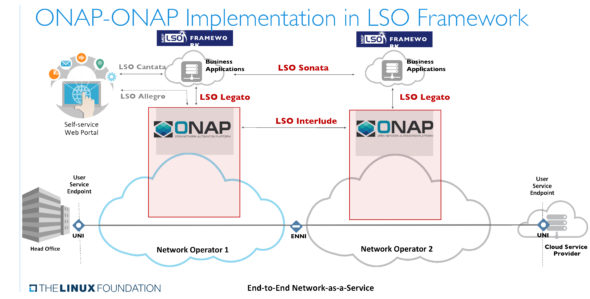 As the above diagram indicates, changes to ONAP could impact MEF interfaces and vice versa. Close coordination on Linux ONAP and MEF LSO initiatives will help ensure that changes to one do not create interoperability issues for the other and will enable both organizations to maximize the capabilities that they can jointly support, Joshipura said.
According to the Linux Foundation, the number of network operators participating in ONAP has grown to the point where ONAP now covers 55% of subscribers worldwide. The number of developers working on ONAP now exceeds 1,100, the Linux Foundation said.