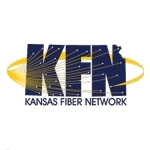 Kansas is getting a lot of fiber connectivity attention these days, thanks in large part to Google's decision to build a FTTP network in Kansas City (now including the Missouri variety). But as we pointed out in a previous post, Kansas is no stranger to fiber connectivity. The latest case in point is the Kansas Fiber Network (KFN).
KFN is the latest example of an independent telco conceived and owned regional fiber network, which will span 2,600 route miles within the state, connecting rural and metro communities alike. The Wichita Eagle recently reported that the Kansas Fiber Network is almost complete, and should launch at the end of this summer. KFN is owned by 29 independent rural telcos who have invested approximately $28 million in cash and assets. KFN is based in Wichita, Kan.
"If you're a telephone company in the far western area of the state, you're paying $70 a meg for Internet service," Steven Dorf, KFN's president told the Wichita Eagle. "That's wholesale. With KFN we can bring down that cost by half, which then makes it much more attractive and available to subscribers in those (rural) areas."
It's a prescription which has been followed by many states including Iowa, Missouri, South Dakota, Texas, Montana and many more. Rural carriers within these states band together to leverage their own network assets, as well as build additional, to gain scale and efficiency. The INDATELgroup is a trade group which represents many of these carriers.
In addition to bringing connectivity and tandem switching to its owners and other customers, KFN also intends to offer SS7 services and wireless backhaul. The future may also include cloud and enterprise database services, according to their website.