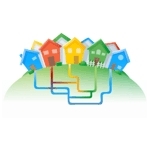 Google's Kansas City fiber project is getting bigger and bigger. After announcing in March that it would deploy a broadband network capable of supporting 1 Gb/s speeds to end users throughout most of Kansas City, Kan., the company subsequently added neighboring areas of the state to the project. And today the company confirmed that it also plans to bring 1 Gb/s service to Kansas City, Mo. The company's plan to broaden its service area resulted, in part, from an offer from Great Plans Energy and Kansas City Power & Light to let Google use its poles, infrastructure and existing fiber network to deliver the high-speed service.
"Just as the move from dial-up to broadband led to new and unpredictable innovations, we believe ultra high-speed bandwidth will push the web to even greater heights," said Google Vice President for Access Services Milo Medin, in an announcement today from Great Plains Energy and KCP&L.  "We're thrilled to be working with KCP&L to bring the most advanced Internet service in the country to Kansas Citians."
According to a report published by the Kansas City Star, Google's deal in Kansas City, Kan. asked for no grants or tax breaks. Instead, the company promised free Internet connections to "scores of schools and municipal office buildings," the Star reported.
Details of Google's agreements with Kansas City, Mo. were not been provided. But in today's announcement, Great Plains Energy and KCP&L Chairman and CEO Mike Chesser hinted that connectivity to schools might be part of the agreement. "Instead of only the largest companies or most affluent suburbs, this agreement will make superfast Internet connections available to everyone in Kansas City," said Chesser. "Now schools, businesses, neighborhoods and individual residents will benefit from the ultra-fast broadband technology."
In the City of Kansas City, Mo.'s own announcement of the new agreement, the city's mayor Sly James said the ultra high-speed service should make the city more attractive to entrepreneurs. "Our region's future relies on recruiting the smartest and most innovative people," said James. "As a result of this announcement, we have become the most attractive city on the planet to entrepreneurs."
Google's announcement highlights what seems to be increased interest in telecom and utility companies partnering together on infrastructure deployments, driven in part by telco initiatives to improve broadband connectivity and in part by utility companies' smart grid initiatives. Perhaps what is most surprising about today's announcement is that it didn't say anything about the possibility that the local utility company might use Google's new network to support a smart grid deployment. But that would seem to be a logical part of such a deal, perhaps some time in the future.
Many other things also are still unknown about Google's plans in the Kansas City area—including the company's  plans for pricing the high-speed service—although the Kansas City Star reporter noted that Google executives have used terms such as "competitive," "comparable," and "affordable" to describe the offering.
Perhaps no one is awaiting such details with greater interest than SureWest, which offers broadband services in several Kansas City area communities. Previously the company said the project areas did not overlap with areas where it provides service.  But with Google's footprint continuously mushrooming, SureWest must be getting nervous.