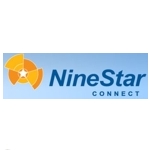 Hancock Telecom and Central Indiana Power officially merged after the New Year and have now unveiled their new corporate identity – NineStar Connect.
The two cooperatives will now begin the long process of integrating the two organizations into NineStar Connect which will provide "…electric power along with a street lighting division and full panoply of telecommunications services including incumbent and competitive local exchange services, internet (dedicated, wireline broadband, and wireless broadband ) services, IP-based video (including broadcast, cable, pay-per-view and video-on-demand) services, network management services, off-site data storage and disaster recovery services, and small business and home security and monitoring services."
The merged company is also launching a smart grid initiative which will utilize the former Hancock Telecom's FTTH network and other broadband assets.
The new name was selected in part due to the fact that the new entity is a "…result of the consolidation of nine separate companies since 1950." Kudos to the leadership for all of those nine companies, including Hancock Telecom and Central Indiana Power for completing what must have been a series of complex and humbling decisions to arrive at the birth of NineStar Connect.
It will indeed be interesting to observe this newly formed entity execute its vision and mission. Is it a leading indicator of more partnerships among telecom and utility players in the independent sector?