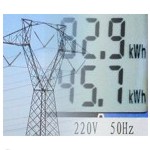 All smart grid ecosystem eyes will be on central Indiana as Central Indiana Power (CIP) and Hancock Telephone partner together to power a smart grid network, utilizing Hancock's FTTH network. It's a good example of a telco and a utility partnering together for smart grid.
The telco-utility partnership angle is one which is being discussed within all circles of the industry. It was a hot topic of debate at our recent SmartGrid Forum.
"It's natural for telecoms and utilities to work together," said Eric Murray, Tantalus President & CEO in a press release. "Many telecoms already supply their local electric coop with wireless or wired connectivity to substations. By collaborating with Hancock, CIP can extend connectivity to other points in the distribution network via the telecom's existing infrastructure.  It's a logical next step that will accelerate smart grid roll out, avoids the cost and complexity of building and maintaining two separate communications networks, and consolidates billing, customer service and many other business functions under one roof."
Hancock and CIP are utilizing the Tantalus Homerun Network solution, which according to Tantulus automates "…meter readings, outage detection, and disconnect/reconnect procedures. Furthermore, it can help the utility optimize the network through 24/7 power quality monitoring at member homes and on distribution equipment in order to detect and often correct a potential problem before it impacts service."
Hancock and CIP are currently in merger discussions to form a single cooperative which offers both electric and broadband services to its members. "Eighty-five percent of CIP and Hancock voters endorsed the merger agreement between the two coops," said CIP President & CEO Tom Seng in a press release.
It's a very interesting approach – one that is being watched with great interest by both the electric and broadband cooperative industries. In so doing, they're leading the way among telco-utility partnerships for smart grid and its integration into an existing FTTH broadband network.