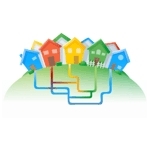 Google has attracted a lot of attention with its plan to build a network capable of delivering 1 Gb/s service to homes and businesses in Kansas City, Kansas.  But the company won't be the first in Kansas to deploy a broadband network capable of delivering 1 Gb/s service. At least two rural telcos in the state—Rural Telephone Company and Twin Valley Telephone —already have achieved that goal.
Rural Telephone Company
Rural Telephone Company has deployed fiber-to-the-premises equipment based on active Ethernet that is capable of supporting 1 Gb/s service to 70% of the subscribers in its ILEC territory, said Rhonda Goddard, chief operating officer for the company, in an interview with Telecompetitor. In addition, RuralTel won a stimulus award to deploy the same technology throughout 1700 square miles of western Kansas—an area about the size of Connecticut—and the company already has deployed service to two communities that were part of the award.
As of now RuralTel only has one customer taking service at speeds of 1 Gb/s or more, but its equipment can be easily upgraded to support 1 Gb/s if customers ask for it, said Goddard. The customer that is already receiving the high-speed service is Fort Hays State University, which now gets 2 Gb/s service from RuralTel's CLEC unit, Nex-Tech.
That brings us to another similarity between RuralTel's already-made FTTP deployment and what Google is planning in Kansas City:  Free service for certain anchor institutions is part of both companies' strategy. But here, too, RuralTel beat Google to the punch. RuralTel/ Nex-Tech already installed the 2 Gb/s service–as well as a separate 20 Mb/ connection–at no charge for Fort Hays State University and plans to provide free service to the university for five years.
Twin Valley Telephone
Twin Valley Telephone also has both ILEC and CLEC business units, which operate in several rural Kansas communities. About two-thirds of the company's total customer base is reached by the company's active Ethernet-based FTTP network, said Ben Foster, TVT president and COO.
Currently no customer has requested service at rates above 100 Mb/s, Foster said. But as with RuralTel's deployment, service could be easily upgraded to support 1 Gb/s if requested.
As part of its deployment, TVT brought fiber to community anchor institutions at no charge—and although Foster doesn't talk about offering free service to these organizations, he noted that free installation in and of itself is a strong value for those organizations. Larger incumbent telcos, he noted, typically charge an installation fee to cover the cost of bringing service to their customers, including anchor institutions.
TVT also has several service offerings that can help reduce anchor institutions' operating costs, Foster noted. For example, he said, the company's hosted IP Centrex service can save such organizations the expense of updating their PBX or phone system.
Companies like TVT and RuralTel are not isolated examples of rural high-speed broadband deployments, Foster said. "There are Googles all over rural America that don't get any attention," he said.
Moving forward
A key goal of Google's Kansas City fiber deployment is economic development—and here, too, the rural Kansas telcos are ahead of the game.
Foster noted that some school districts in communities served by TVT are using the company's broadband technology to enable teachers to be shared across multiple schools. And Goddard pointed to at least two companies in RuralTel's serving area—Osborne Industries and Natoma Corporation—that have benefitted from having excellent broadband connectivity.
Another similarity between RuralTel and TVT: Both companies may be happy they deployed FTTP when they did.
Both RuralTel and TVT draw funding from the Universal Service program to cover some of the costs of providing service to their customers, who are expensive to reach. Although today's Universal Service program is primarily focused on voice, rural telcos have been able to use program funding to cover some FTTP deployment costs because FTTP networks support voice as well as data service.
Ironically, as the FCC proposes transitioning the Universal Service program away from voice toward broadband, rural telcos may find that as that transition occurs, they will be unable to recover as many costs as they do today under the voice-focused program. The reason is that the FCC has proposed a target broadband speed of just 4 Mb/s for the broadband Universal Service program.
That target, Foster said, "will preclude a lot of FTTH builds in rural areas." And how the proposed reforms will affect companies like TVT that already have deployed broadband at speeds above 4 Mb/s is unclear.
"We will depreciate what we have out until we can't run [it] any more," said Foster. "We're not sure what the implications will be. It doesn't seem like there will be a lot of allowances to upgrade anything we have."
RuralTel, meanwhile, has created a promotional piece showing how high-speed broadband has benefited people and businesses in its serving territory. "We're trying to build relationships so we can call on [these people] to convince the FCC that we really need higher speed bandwidth in rural America," said Goddard.