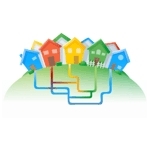 It's been a while since we've heard about the Google Fiber project, which aims to bring a 1 Gb/s FTTP network to a city, town, or series of towns. Google says they received over 1,100 applications and we now know at least one winner. Kansas City will get the ultra fast Google Fiber network.
"We've signed a development agreement with the city, and we'll be working closely with local organizations, businesses and universities to bring a next-generation web experience to the community," Google announced on their blog this morning.
The deal is awaiting approval from the city's Board of Commissioners, but Google expects the network to go live some time in 2012. Kansas City Mayor Joe Reardon said the network will provide free broadband access to Kansas City schools and government offices. The city government is contributing significantly to the development of the network, but details are lacking at the time of this posting.
In making the announcement at a live event in Kansas City, Google CFO Patrick Pichette said "Kansas City is our first city," suggesting more cities may be selected in the future. Additionally, Google Fiber Vice President of Access Services, Milo Medin said that the Kansas City deployment is "…a beginning, not the end." Who will be next?
The Google fiber project selected Kansas City based on a number of factors, but Medin outlined three key factors at the announcement:
It's a location that they felt they could build quickly

It's a location they felt they could have a large impact on economic development quickly

They felt the Kansas City community offered great partnerships with local government and community
From my vantage point, the selection of Kansas City was a larger market than I expected. It's a pretty significant sized city for a 1 Gb/s FTTP network, which according to plan, will be delivered to every home and business in the city. I thought they would have selected a smaller market for this first experiment.
It's not entirely clear how this network will operate. Will it be an open access network, where other service providers actually deliver services/applications to retail customers? Will Google operate the actual network, or just facilitate its development, construction, and operation? Interesting questions to ponder for a very interesting development in telecom.