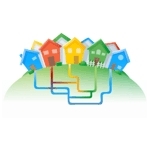 Seeking a site in which to build an experimental, ultra high-speed FTTP network, Google's open-to-the-public RFI (request for information) has generated quite a response: more than 1,100 communities and more than 194,000 individuals submitted nominations, along with a wide variety of creative, and sometimes quirky, reasons why their communities should be chosen.
Google announced that it would open up its selection process to all comers back on Feb. 10.  The result: some cities are willing to rename themselves, public rallies have been held, numerous YouTube videos have been posted and "hundreds of Facebook groups have come to life," according to a Google blog post by product manager James Kelly.
The mayor of Duluth, Minnesota even dove into Lake Superior, in late February no less.  Not to be outdone, the mayor of Sarasota dove into a tank populated with bonnet head sharks at the Mote Marine Laboratory.
"We're thrilled to see this kind of excitement, and we want to humbly thank each and every community and individual for taking the time to participate.  This enthusiasm is much bigger than Google and our experimental network. If one message has come through loud and clear, it's this: people across the country are hungry for better and faster Internet access," Kelly commented.
So what's next? Google plans to spend the next several months rigorously reviewing the responses to determine at which site, or sites, to build, Kelly explains.
The plan is to reach a total of at least 50,000 and perhaps as many as half-a-million people.  Project team members will be hitting the road and "conducting site visits, meeting with local officials and consulting with third-party organizations." They expect to announce a target community or communities by the end of the year.  Stay tuned.