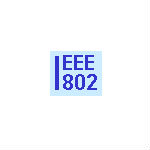 Products supporting the IEEE P802.22 Wireless Regional Area Network (WRAN) standard based on white spaces technology and known informally as "super WiFi," are still under development–but already the IEEE is starting work on an enhanced version of the standard.
The new P802.22b standards effort announced yesterday aims to create a higher-bandwidth version of the original WRAN standard and to define new WRAN device types, said Apurva Mody, chairman of the IEEE 802.22 working group, in an interview.
The goal is to "at least double" the bandwidth supported, Mody said. "There are many ways in which to do it and we will explore all of those." One option, he said, might be to bond multiple channels together, where available.
Mody expects products supporting the initial P802.22 WRAN standard to be available in about six to eight months and to support speeds up to 22 Mbps over distances as great as 100 kilometers using unused TV broadcast spectrum between 54 MHz and 862 MHz. The standard also calls for the use of a dynamic database to keep track of where spectrum is in use by licensed operators and where it is available for unlicensed use.
The FCC paved the way for the use of vacant TV spectrum by unlicensed users through dynamic database technology in an order issued in September 2010, and the first deployment of white spaces technology occurred at the end of 2011 in Wilmington, N.C. That deployment was a point-to-point configuration to extend an existing WiFi hotspot network.
The 802.22 WRAN standard defines a potentially more exciting point-to-multipoint offering that would be suitable for supporting wireless broadband service in remote rural areas—particularly areas that do not support line-of-site communications.
The "b" version of the 802.22 standard aims to define alternative configurations of WRAN technology to support a broader range of applications—including the ability to support a triple-play offering of voice video and data services. Other expected configurations include long-range and regional area smart grid communications, critical infrastructure monitoring, cellular offload, regional area public safety and homeland security networks, emergency broadband services, rain forest monitoring, livestock monitoring, border protection and others.
While devices supporting some of these applications might require only 50 kbps of bandwidth, others could require tens of megabits per second, Mody said. He also noted that specifications for devices supporting certain applications—such as smart grid communications–would likely have a limit on how much power they draw. Such a limit does not exist in the initial version of the 802.22 standard, Mody said. He estimated that products supporting the "b" version of the 802.22 standard would be available about 18 to 24 months after products supporting the initial 802.22 standard are available.
Not all equipment will support IEEE standards
In a separate announcement today, Carlson and Neul announced that they would begin shipping equipment based on a non-standard version of multipoint white spaces technology as early as the second quarter of 2012. Carlson's CEO told Telecompetitor the product was designed with the goal of being able to support the 802.22 standard in the future, depending on whether the standard is able to support all of the capabilities that customers require.
Although the TV white spaces idea originated in the US, both Mody and Carlson CEO Jim Carlson see strong interest in the technology in other parts of the world as well.