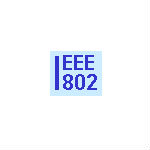 The IEEE has approved 802.22 as a wireless regional area network (WRAN) standard. The new standard, known informally as super wi-fi (or white-fi) operates in the TV UHF and VHF channel bands, also known as 'white space' spectrum. The new technology holds great promise for wireless broadband, especially in rural markets.
According to the IEEE, the new 802.22 technology can deliver up to 22 Mbps over 100 kilometers (about 62 miles). "This technology is especially useful for serving less densely populated areas, such as rural areas, and developing countries where most vacant TV channels can be found," the IEEE states in a press release.
The new 802.22 standard requires a lot of behind the scenes coordination. To avoid interference, cognitive radio capabilities including dynamic spectrum access and incumbent database access, among other things, ensures optimal use of the spectrum for best wireless performance.
There's been a lot of activity of late regarding 802.22, some of which is not promising. Recognizing the interference potential of the technology, the FCC launched a spectrum database initiative – a dynamic database, critical for tracking and assigning unused spectrum. Several companies have been involved in this database approach, including SpectrumBridge and Microsoft.
But recent news from Congress puts 802.22 in limbo for a while. Legislation has been introduced recently which could potentially impact the availability of super wi-fi. The spectrum was originally envisioned as an unlicensed spectrum, similar to today's wi-fi. But a provision of this recently introduced legislation requires any spectrum made available for commercial use to be done so through an auction, even if the spectrum is to be made available on an unlicensed basis. If this legislation is approved as written, companies interested in using 802.22 would have to bid for the spectrum, and compete potentially with Verizon, AT&T, and Sprint for the opportunity.