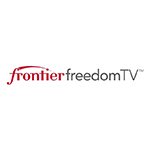 The quest to find the right video product in a changing broadband and pay-TV landscape continues with the introduction of Frontier's Freedom TV service. The package bundles over-the-air local broadcast TV, OTT services, and DVR functionality as an alternative to a traditional pay-TV service delivered via cable, IPTV, or DBS. Frontier is targeting cord cutters and millennials who are embracing a world where a traditional monthly pay-TV subscription is seen as expensive and/or unnecessary.
The package includes a TiVo Roamio OTA HD DVR, which has an over-the-air antenna input (Frontier provides a HD antenna) and OTT content from the likes of Netflix, Hulu, YouTube, and others. It also includes a subscription to Amazon Prime, providing access to Amazon's OTT video service and shipping privileges. Surprisingly, Frontier is including professional installation with this initial package.
Freedom TV was first revealed back in February of this year. It is priced at $20 a month, but requires a Frontier broadband subscription. Frontier is marketing Freedom TV and broadband as a bundle, starting at $49.99/month. The deal requires a one year contract and a $100 early termination fee applies.
The TiVo service includes one DVR. Additional TVs can be connected via the TV Mini at $9.99/month. Customers can also add mobile streaming (inside and outside the home) of broadcast and recorded content with TiVo Stream for another $9.99/month.
Hybrid Video Model
Add Freedom TV to a long list of new hybrid video model products being introduced by service providers to address the shifting marketplace for broadband and video. Subscribers are embracing OTT and reacting to rising monthly subscription fees for pay-TV service. There is a growing segment of the market rejecting this traditional pay-TV model, but what they want instead is subject to debate.
Freedom TV joins products from the likes of Cablevision and AT&T, among others, who are also experimenting with a hybrid video model. The goal of course is to find the right video product mix that engages cord cutters and encourages them to subscribe to a premium broadband product, where better profit margins exist.
Frontier is unique, in that they probably have the most diverse mix of video products of any broadband or video service provider. They operate both FiOS and U-verse video platforms from previous acquisitions. They probably operate several traditional coax cable systems from previous acquisitions as well. They partner for DBS service, and they now have a hybrid video model.
This gives Frontier a unique view into the video services marketplace.  A Frontier executive recently revealed yet another video product to come this year, citing "linear TV" as having a role. It's not clear whether that reference was to Freedom TV.
The executive cited improved encoding techniques that made the new service more attractive. Freedom TV does not need any encoding scheme, since local broadcast channels are delivered over-the-air. Perhaps that will change in a future release, and Frontier will stream those local channels. Given Frontier's extensive rural footprint, OTA broadcast might prove challenging to a large portion of their footprint. Will they soon add local channel streaming to reach them?