Broadband service providers continue to look for ways to leverage TV and video services, blurring the traditional lines of what it means to be a TV provider. A combination of the growing availability of compelling content via OTT delivery and faster video enabling broadband services is redefining what it means to be a video service provider. The recently announced Frontier TiVo deal highlights this trend.
Frontier TiVo Deal
The deal, which will kick-off in mid-2015, will have Frontier offering a TiVo Roamio OTA DVR. This slimmed down DVR set-top-box features a digital over-the-air (OTA) antenna for local OTA broadcast signals, access to OTT video content like Netflix, and other features including WiFi connectivity.
Customers can stream their DVR content to mobile devices through TiVo add ons and the TiVo box searches content from both local broadcast channels, as well as OTT content. The initial DVR featured in the partnership does not have CableCARD functionality, so it can't interface with traditional cable TV service, although the deal may feature different TiVo products in the future.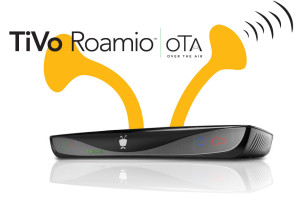 Frontier intends to initially market the TiVo Roamio featuring an OTA broadcast channel/OTT video bundle to its broadband only customers. The idea is to offer a video service to broadband customers that's a 'lite' version of a traditional pay-TV channel line-up. Something that is appealing to cord-cutters or cord-neverers – customers who are no longer interested in the traditional, and increasingly expensive, pay-TV channel line-up.
Video is delivered via over-the-air signals (limiting its appeal in more rural markets) and through the customer's broadband connection. No need to build an expensive headend or use even a single encoder, and you also avoid costly retransmission fees for local broadcast signals.
Frontier and TiVo did not reveal financials of the deal structure. TiVo typically charges $14.99/month for this service if purchased from them directly and they initially began selling this featured Roamio DVR for $49 at retail.
One would assume there is some revenue sharing going on here between the partners, based probably on subscriber guarantees/volume purchasing by Frontier. Frontier did not respond to an inquiry from Telecompetitor.
It's the first TiVo deal with a major telco. TiVo has been quite active with these distribution deals through regional cable MSOs, but those deals feature CableCARD functionality, allowing the MSO to deliver their traditional pay-TV channel line-up, along with OTT.
Frontier is probably keeping that option open as well, considering they are poised to become a major TelcoTV provider post their recent $10B Verizon acquisition, which will land them with 1.8 million video subscribers (mostly FiOS TV subs). They may have the same incentives as the regional cable MSOs for a TiVo product targeting their pay-TV customer base.
TiVo Muscles in on Roku?
This strategy is very close to a 'cord-cutter' model followed by IP set-top-box maker Roku, who has partnered with numerous telcos for some success with STB distribution. Key differences include the lack of a DVR in the Roku model and the delivery of local OTA broadcast signals.
In the Roku model, those signals are streamed over the broadband carrier's network directly to the Roku box, eliminating the need for an antenna. The local telco creates their own branded Roku channel, featuring local channels and other local content. That's a more favorable approach where OTA signals are weak, particularly in rural markets.
Other broadband service providers, telco and cable alike, have distributed Roku boxes without any local broadcast channel functionality as well, simply as a way to upsell broadband service in general.
Should this new TiVo approach evolve to include a streaming option for local broadcast, we would have a very interesting competitive dynamic between TiVo and Roku, if we don't already.
Exactly What is a Video Service Provider?
This latest Frontier TiVo deal highlights a dynamically changing video environment. It's difficult to define video service providers today. Old rules don't apply. New rules have yet to be defined.
With this Frontier example as a back drop, if a broadband carrier sells the TiVo Roamio device and their customers access video content over-the-air and through their broadband connection, does that make that broadband provider a video service provider? They are potentially generating revenue from video services, yet they have no headend and pay no content or retransmission costs.
Heck, they may even be generating the same types of margins with this new approach as a traditional IPTV or CATV provider, given the margin challenged business presented by the traditional pay-TV model these days.
Certainly, the definition of what it means to be in the video business is changing. Quickly and dramatically. It's too early to make firm conclusions regarding outcomes and long term definitions. Ultimately, end consumers will decide how the landscape evolves. Enjoy the ride, while you can.
Editors Note: These issues are of great importance to broadband service providers. We invite you to join us at the upcoming broadbandTV event, a co-located event at this year's 2015 FTTH Connect Conference in Anaheim, CA, June 30th – July 2nd. We will be putting these issues into more context for broadband service providers and their partners.