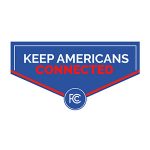 The new Emergency Broadband Connections Act would provide $50 per month to pay for broadband for workers who have been laid off or furloughed during the Covid-19 pandemic. The Senate bill, sponsored by 26 Democrats, addresses future (not past) hardships for ISPs who choose to continue in the spirit of the FCC's Keep Americans Connected pledge.
That pledge promised ISPs would not disconnect subscribers during the pandemic for nonpayment, waive late fees, and open Wi-Fi hotspots to any person in their service territory. Close to 800 ISPs have signed the pledge, which officially ends today, June 30th.
The pledge was not without cost, and ISPs, particularly smaller ISPs, are encountering financial hardships as a result, a reality that FCC Chairman Pai has acknowledged. Chairman Pai recently called on Congress to provide funding to help support the hardships caused by the pledge.
The Wireless Internet Service Provider Association (WISPA) recently put some numbers to those hardships. The average wireless ISP has incurred about $25K in the form of non-payment for services and $3,200 in late fees, according to the association. WISPA fixed wireless ISP members average about 1,500 total subscribers.
Emergency Broadband Connections Act
The Emergency Broadband Connections Act allocates $8.8 billion towards a monthly broadband internet subsidy and pays for devices such as laptop or desktop computers or tablets to eligible households. The bill also requires service providers offering Lifeline services through the USF program to make unlimited minutes and data available to those that currently rely on that program.
Eligibility for these benefits is based on a few factors. Persons who have been laid off or furloughed due to the pandemic are eligible. As are households with at least one member that qualifies for the free or reduced school lunch or breakfast program. Households with not less than one member who has received a Federal Pell Grant under section 401 of the Higher Education Act of 1965 are also eligible.
"There's every indication the fallout from the coronavirus will drag on for months," said one of primary sponsors of the bill, Ron Wyden ( D-Ore) in a press release. "Our legislation will make sure workers and families in need don't find themselves stranded offline at the same time they lose a paycheck.
This Senate legislation parallels provisions of the House HEROES Act and the Emergency Broadband Connections Act by Rep. Marc Veasey, D-Texas.
If adopted as written today, the FCC will reimburse ISPs $50 per month ($75 per month on tribal lands) for service provided to these eligible households. Participating ISPs have to offer the service "[i]n the same manner, and on the same or better terms, as described in any of such provider's advertisements for broadband internet access service to such household, as of May 1, 2020." The device reimbursement is $100 in total.
Reimbursements are not retroactive, meaning ISPs will have to work with subscribers directly for any past due balances incurred by the pledge prior to the effective date of this legislation. FCC Chairman Pai is encouraging ISPs to continue in the spirit of the pledge after its June 30th expiration.